On Friday, March 18, the third floor of Gino's East in Chicago was filled with excitement and nervousness as well as 148 fourth-year medical students, their families, friends and faculty mentors.
The students had gathered together to tear open their Match Day envelopes and learn where they will attend residency training for the next three to seven years, and to celebrate the success of their four-year journey at Northwestern University Feinberg School of Medicine.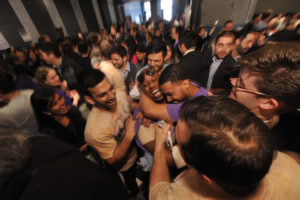 "I'm grateful for all of my friends and family. I'm happy to see classmates I haven't seen in a while, and it's nice for all of us to come together at the end," said Michael Okoli, a fourth-year medical student who matched at Thomas Jefferson University in Philadelphia in orthopaedic surgery.
Every year, Match Day is held on the third Friday of March, at the same time, at medical schools across the country. This year's match was the largest on record, encompassing 42,370 registered applicants and 30,750 positions, according to the National Resident Matching Program (NRMP).
Prajwal Ciryam, an MD/PhD student in the Medical Scientist Training Program and an alumnus of the Weinberg School of Arts and Sciences, said he was eager to learn where he matched.
"I've been at Northwestern for a long time and am very grateful to this institution," Ciryam said. "This is the culmination of a long relationship, and I'm excited to see how all of the tools and skills I learned here will help me in this next stage."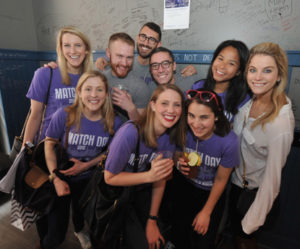 Ciryam studied how protein misfolding leads to the neurodegenerative disorders in a molecular biosciences laboratory. He was also Fulbright scholar at the University of Cambridge. He matched at New York-Presbyterian Hospital at Columbia University Medical Center in New York City in neurology.
Conducted by the NRMP, matches are made by using a computerized mathematical algorithm to align the preferences of applicants with the preferences of residency program directors to fill the training positions available in U.S. teaching hospitals.
"I matched at Northwestern for orthopaedic surgery, my number one choice," said Danielle Chun, a fourth-year medical student, who spent the past year conducting orthopaedic research. "Without the mentorship and encouragement of the orthopaedic faculty at Northwestern, I would not be in this position. I'm so grateful and excited to have the opportunity to continue my orthopaedic training at Northwestern for the next five years."
View a full list of 2016 match results.
Read profiles of medical students and their matches.
View more photos from the 2016 Match Day event.