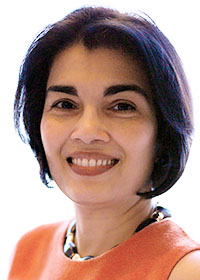 A new drug called daratumumab is a safe and effective treatment for patients with advanced multiple myeloma who do not respond to other therapies, according to a recent clinical trial conducted by Northwestern Medicine investigator Seema Singhal, MD.
The findings were published in The Lancet.
Multiple myeloma is a cancer that occurs in plasma cells, a type of white blood cell in bone marrow that is an essential component of the immune system. Daratumumab works by binding to malignant myeloma cells that express a protein called CD38, which induces tumor cell death.
"In this study, patients with advanced myeloma not responsive to two important classes of myeloma drugs were given therapy with a new agent," said Dr. Singhal, a professor Medicine in the Division of Hematology/Oncology and member of the Robert H. Lurie Comprehensive Cancer Center of Northwestern University, who co-authored the paper. "The responses to this new drug were startlingly good, with 31 out of 106 patients – 29 percent – showing a response."
On average, the drug reduced tumor burden beginning one month after treatment and lasted for about seven months. As a result of this trial, the Food and Drug Administration approved daratumumab for treatment of myeloma.
Dr. Singhal notes that the drug was well-tolerated by patients, with fatigue and anemia being the most common side effects.
"This drug is very specific to its target and does not cause daunting side effects," she said. "Given that the myeloma patient population is elderly and often frail, it is wonderful to be able to use drugs that are effective without being toxic."
The study was conducted at 26 sites around the world; Dr. Singhal enrolled patients at Northwestern and monitored them for response and toxicity. The investigators are continuing to test the drug in different combinations and at various stages of myeloma.
This research was funded by Janssen Research & Development, the pharmaceutical company that manufactures daratumumab.