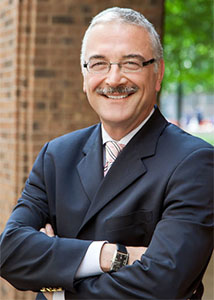 A combination of the drugs palbociclib and fulvestrant provides an effective and well-tolerated therapy for patients with recurrent metastatic breast cancer who are resistant to endocrine therapy, according to a new Northwestern Medicine study.
This phase III clinical trial, published in Lancet Oncology, followed up an initial analysis and focused on the various aspects of endocrine resistance in hormone receptor-positive metastatic breast cancer, which relies on estrogen to grow and progress. The paper also included clinical and safety endpoints.
Palbociclib stops the cell cycle and prevents cancer cells from dividing, and fulvestrant binds to estrogen receptors blocking the growth of cancer cells. While both have been shown to be effective treatments in postmenopausal metastatic breast cancer, this study was the first time the combination of drugs had been tested in premenopausal women.
"We learned the drug continues to be effective and saw significant progression for survival," said first author Massimo Cristofanilli, MD, professor of Medicine in the Division of Hematology/Oncology. Dr. Cristofanilli is also the associate director for Precision Medicine and Translational Research at the Robert H. Lurie Comprehensive Cancer Center at Northwestern University. "Palbociclib represents an alternative to chemotherapy for a patient that may have developed endocrine resistance, and it is certainly less toxic."
The trial was performed in 144 centers in 17 countries from 2013 to 2014. Eligible patients had hormone receptor-positive metastatic breast cancer. Patients were also women over 18 years old and of any menopausal status.
The 521 enrolled patients were randomly assigned to receive palbociclib and fulvestrant or a placebo and fulvestrant. A significant improvement in either progression-free survival or the time from randomization to disease progression (or death) was demonstrated in patients receiving the combination of palbociclib and fulvestrant over just fulvestrant.
The scientists also measured patients' levels of hormone-receptor expression, PIK3CA mutational status (a common gene mutation in estrogen resistant breast cancer) and other clinical measures. They found the efficacy of palbociclib was shown to be independent of the degree of hormone resistance. This finding means that palbociclib could be used as a therapeutic for patients regardless of the level of endocrine sensitivity and resistance and PIK3CA mutation status.
The scientists are continuing to study overall survival in patients.
"We are looking at other molecular correlations in the blood, including estrogen receptor mutations, and we are interested in the long-term advantages and survival benefit," Dr. Cristofanilli said.
Pfizer sponsored the study, and AstraZeneca provided fulvestrant.