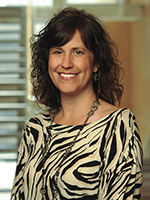 As the science of genetics and genomics advances, the demand for genetic counselors has continued to rise alongside. Employment of genetic counselors is projected to grow 29 percent from 2014 to 2024, according to the US Bureau of Labor Statistics.
Catherine Wicklund, MS, CGC, director of the Graduate Program in Genetic Counseling, and colleagues are seeking to evaluate opportunities for growth of the genetic counseling workforce and assess the barriers preventing education and training programs from expanding.
"There has been an explosion of jobs especially in industry and laboratories because they need genetic counselors to help interpret sequencing," said Wicklund, also associate professor of Obstetrics and Gynecology in the Division of Clinical Genetics. "There has also been an increase in clinical jobs, because more people are doing genetic testing. As the implementation of more genomic medicine and the expansion of sequencing and panel testing continues, there is going to be an increase in demand for our services."
For a recent study, Vivian Pan, '12 MS, and Wicklund surveyed 25 program directors and conducted 18 interviews on the factors impacting increasing students in genetic counseling graduate programs. The results were recently published in the journal Genetics in Medicine.
"Before this study, we didn't have the data collected in a systematic way. This research was the first step in helping us get a better understanding of the needs of program directors," Wicklund said.
Seventy-three percent of participants felt that Genetic Counseling programs should increase their number of graduates. The study identified six main factors to be addressed as programs expand: program funding, accreditation requirements, clinical sites, faculty availability, applicant pool and physical space.
"In addition to funding, clinical rotations are one of the things programs struggle with. If you have a limited number of genetic counselors in the community, that means you have a limited number of clinical placements for your students," she said.
While some participants believed that developing more programs in underrepresented areas is the most feasible way to increase the number of graduates, others thought that increasing the size of current programs would be the most efficient solution. A total of 57 percent of participants indicated that both the size of programs and the number of programs should increase.
Wicklund plans to expand the Genetic Counseling program at Northwestern – the only genetic counseling program in Illinois – from 14 to 18 students next year.
"We really want to grow, but are trying to do it in a responsible way, so we can accommodate the increase in students and not diminish the quality of the program," Wicklund said. "If we expand, we have to think about the impact it has on our research, clinical rotations, curriculum and the faculty to student ratio."
Wicklund explained that the biggest barrier to students attending the Northwestern program is the cost of tuition, and she is working with a task force to figure out how it can be subsidized.
Wicklund, as a member of a national task force, is collaborating with outside organizations to conduct a formal needs assessment, which she hopes will help to raise more support and funding for the graduate programs and students.
The study was supported by the Northwestern University Genetic Counseling Program.