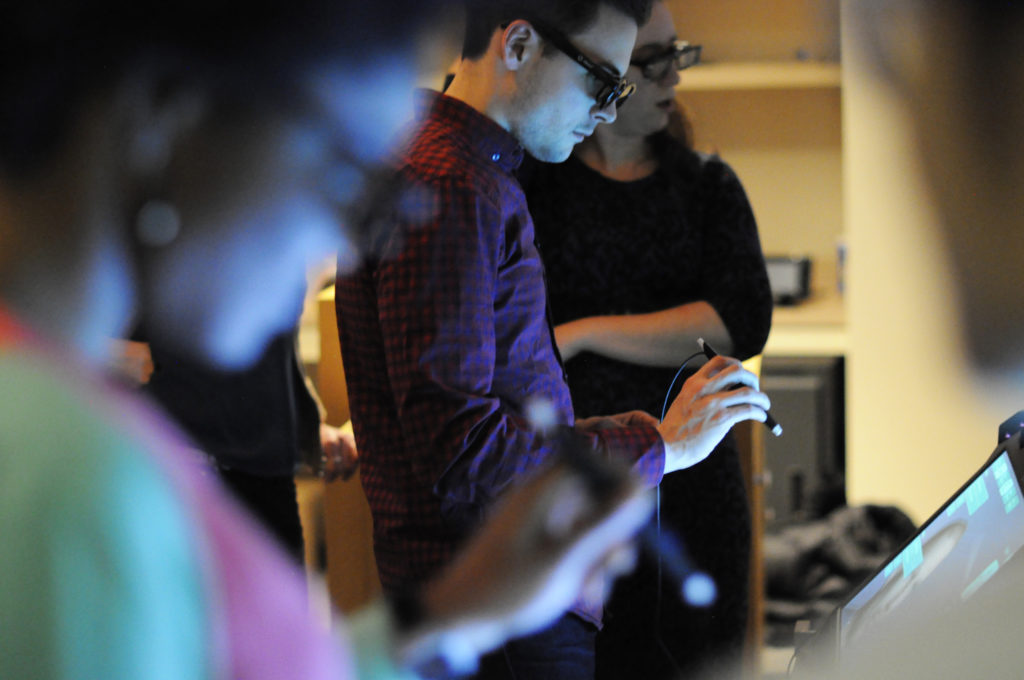 As part of the Feinberg's Interdisciplinary Curriculum Phase 2 (IC2), third-year medical student Imo Uko looked through a pair of 3-D glasses and practiced eye exams on a virtual patient.
Using this virtual simulation technology – called EyeSim – Uko and his peers learned about normal and abnormal pupils and motility. They also used the software on tablets to better understand the effects of visual field deficits.
The virtual simulation was one of three ophthalmology skills sessions organized by the Department of Ophthalmology on January 22.
"It's a chance to learn about the clinical side of the eyes. Since we don't have an ophthalmology rotation, it's important for us to get a chance to practice eye exams," Uko said.
The virtual simulation training was led by faculty from Loyola University.
"The ophthalmology simulators are extraordinary tools that cover the knowledge students need and teach them relevant skills," said Nicholas Volpe, MD, chair of Ophthalmology. "We're planning to expand and bring this technology to Northwestern."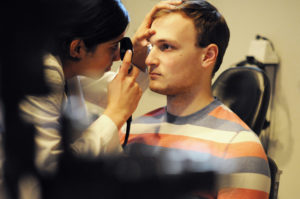 Rukhsana Mirza, MD, associate professor of Ophthalmology, who organized the skills sessions, said, "Today's activities fulfill a need for more interactive learning and give students a way to see 'patients' with abnormalities of the eye that they wouldn't have the chance to see."
Other sessions included a dynamic lecture called "Red Eye Jeopardy" and a clinical activity where students worked with faculty to practice eye examinations on standardized patients.
Third-year medical student Shelun Tsai said it was exciting to see her first optic disc during the clinical exam session with a standardized patient. Tsai was able to practice skills including a slit-lamp exam, which allows for anatomical diagnoses of the eye, and assessing a patient's refractive error using a retinoscope.
"These skills can come in handy during our other rotations," Tsai said. "When a patient comes in with a headache the first thing we are supposed to do is check their eyes. My next rotation is in the Emergency Department, so I might be able to apply these skills to patients that may come in."