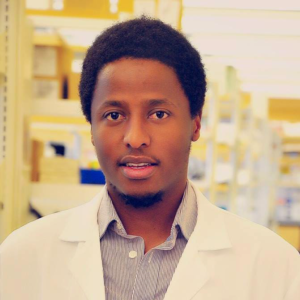 First-year medical student Martin Mutonga sees himself becoming a physician who is involved in research. To get early exposure to the latter activity, he spent two years between college and medical school in a lab conducting cancer research, experience he'll build on over the next four years at Feinberg.
He hopes to bring what he learns back to his home country of Kenya.
"Where I come from, there are about 12 oncologists for more than 40 million people," Mutonga said. "Cancer management is a challenge there, but it's also a challenge here. I want to contribute to this issue."
Last fall at the American College of Physicians Illinois Northern Chapter Residents' and Students' Day, Mutonga presented a research poster showcasing the results of his time in the lab. His project, which identified a potential drug target in acute lymphoblastic leukemia (ALL), won an award for best poster in the medical student category. The study was also published in the journal Translational Oncology.
"The five-year event-free survival rate is nearly 90 percent in childhood ALL but only approximately 40 percent in adult ALL," Mutonga said. "This difference in prognosis has been attributed in part to a higher proportion of high-risk leukemias that demonstrate eventual resistance to current therapies. Therefore the search for better drug targets in these high-risk leukemias is critically important and could stand to benefit adult patients with ALL."
Working with scientists at the University of Chicago, Mutonga showed that SUV39H2, a protein known to be involved in the epigenetic regulation of gene expression, was overexpressed in ALL cells from patients with the leukemia, but not in cells from healthy donors.
"This suggests that by targeting SUV39H2 in leukemia we could maximize the therapeutic effect while minimizing the toxicities, because normal cells hardly express SUV39H2," Mutonga said.
The study showed that inhibiting the synthesis of SUV39H2 caused the ALL cells to die; however, when genetically altered to produce more of the protein, the cells became less sensitive to standard chemotherapy. Altogether, the findings warrant further pre-clinical research on SUV39H2 as a potential drug target in ALL.
Mutonga says he will continue to participate in oncology research as a medical student. His Area of Scholarly Concentration (AoSC) project will assess whether a genomic test for breast cancer risk has clinical utility for younger patients.
The study was supported by the University of Chicago Cancer Research Foundation Women's Board and Division of Biological Sciences and OncoTherapy Science and National Institutes of Health grants T32GM007019, UM1 CA186705 and P30 CA14599-36.