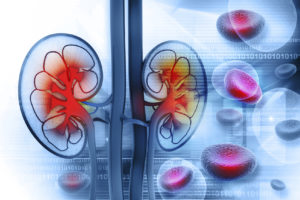 A recent study led by Elizabeth Perlman, MD, discovered a new genetic mutation in the most common type of pediatric kidney cancer, Wilms tumor.
The work is part of ongoing collaborations with the National Institutes of Health (NIH) National Cancer Institute to identify genetic changes that lead to the development of Wilms tumors. The mutations pinpointed may represent new targets for therapies to help young patients.
The paper, published in Nature Communications, describes for the first time a specific type of mutation in the MLLT1 gene. During early development, the gene is a critical component of transcription, the first step in gene expression.
"We show that Wilms tumors arise due to mutations that have not been described in other tumor types, even other pediatric tumors," said Dr. Perlman, a professor of Pathology at Feinberg, who was the first author of the paper. "This study suggests that the origin of Wilms tumor is specific to mutations of genes that are uniquely active in the developing kidney."
The finding adds to previous work from Dr. Perlman's group demonstrating that mutations in the SIX1/2, DGCR8 and DROSHA genes are associated with Wilms tumors. The latter two genes are both responsible for maturation of microRNA, a type of RNA that helps regulate gene expression after transcription.
"The MLLT1 mutations result in tumors at a younger age and with different features than those resulting from DROSHA and DGCR8 mutations," said Dr. Perlman, who is also head of the Department of Pathology and Laboratory Medicine at the Ann & Robert H. Lurie Children's Hospital of Chicago. "All three of these genes are part of the basic cellular machinery that regulates critical aspects of regulation of messenger RNA expression."
In the study, the scientists sequenced DNA from tumor specimens collected from patients before therapy. Their analysis showed that the MLLT1 mutation changed gene expression and protein binding to certain chromatin markers, suggesting that MLLT1 abnormalities early in kidney development lead to Wilms tumor.
Dr. Perlman is a member of the Robert H. Lurie Comprehensive Cancer Center of Northwestern University and the Stanley Manne Children's Research Institute, affiliated with the Ann & Robert H. Lurie Children's Hospital of Chicago.
This research was also funded by NIH grants U10 CA98543, U10CA42326, U10CA98543, U24 CA114766 and UO1CA88131, the IDP Foundation, the American and Lebanese Syrian Associated Charities of St Jude and the King Abdullah University of Science and Technology.