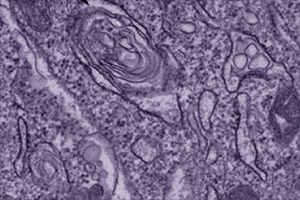 A new Northwestern Medicine study has highlighted for the first time how a toxin from the extracellular bacterium Vibrio cholerae can inhibit autophagy, a cellular process that recycles, eliminates or regulates waste.
Vibrio cholerae, responsible for the diarrheal disease cholera, secretes a large multifunctional-autoprocessing repeat-in-toxin (MARTX) to help the bacterium colonize in the small intestine.
In a paper published in Nature Communications, Karla Satchell, PhD, professor of Microbiology-Immunology, and her team described how an enzyme of the MARTX toxin, alpha-beta hydrolase (ABH) can manipulate cell signals. They demonstrated using assays and imaging techniques how ABH binds to and cleaves the phospholipid molecule PI3P, inhibiting its capability to signal autophagy and endosomal trafficking, the transport of proteins within a cell.
"ABH has an amazing downstream event on both autophagy and endosomal trafficking," said Satchell, who is also a member of the Robert H. Lurie Comprehensive Cancer Center of Northwestern University. "By cleaving that lipid there is no inflammatory response to infection and no recruitment of molecules to instigate cell survival. So what it really does is take a cell that should be active and respond to infection and turn it into something that can't do anything."
Intracellular pathogens have evolved a variety of strategies to block autophagy, allowing bacteria to survive undetected in the host cell, but this is the first time an observation has showed that extracellular pathogens also prevent autophagy in cells, according to Satchell.
Further studies may demonstrate how this strategy helps extracellular bacteria survive outside of host cells.
The research was supported by an Investigators in the Pathogenesis of Infectious Disease award from the Burroughs Wellcome Fund and by National Institutes of Health R01 grants AI051490, AI092825, AI098369, NS056049 and GM68849.