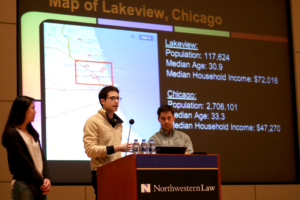 First-year medical students recently connected with local Chicago communities and policy leaders to learn about public health issues and how implementing better health policies can improve the overall health of communities.
As part of the Health & Society element of Feinberg's medical school curriculum, students visited 18 of the Chicago's 77 neighborhoods to assess determinants of health including social environment, physical environment and health services in the context of an assigned health policy issue. Students worked in groups to develop a policy brief that would advocate for community members whose health would be affected by the designated policy issue. Students presented their health policy issue and its impact on their assigned community on November 17 and 19.
"It was a unique experience and gave me a chance to see a community that I wouldn't have been aware of – or may not have visited – on my own," said Sami Hashmi, a first-year medical student who visited North Lawndale, a neighborhood on the west side of Chicago.
Hashmi and his group decided to assess to healthcare for undocumented and uninsured immigrants. In addition to speaking with a representative from the Illinois Coalition for Immigrant and Refugee Rights, the group met with community leaders, residents and health providers and visited the Lawndale Christian Health Center, a federally qualified health center.
"I got an understanding of how access to care is provided to underserved populations. Even though someone has a low income, it doesn't mean they have to receive low-quality care," he said.
During their presentation, the group members described their community assessments and presented the views of the community stakeholders to facilitate a better understanding of their policy issue and its implications.
Hashmi's group recommended expanding Medicaid to include individuals eligible for Deferred Action for Childhood Arrivals (DACA) on a national level. DACA is an immigration policy that allows certain undocumented immigrants to receive a renewable two-year work permit and exemption from deportation.
Implementing this policy would increase the health of the community by increasing immunity and improving trust between undocumented immigrants and the healthcare system, according to Hashmi and his group. They also concluded that with more preventive and primary care, it would also save costs by preventing tertiary visits.
"It is important that our future physicians are aware and sensitive to health policies and their impact on communities' health," said Virginia Bishop, MD, MPH, assistant professor of Preventive Medicine in the Division of Behavioral Medicine, and faculty coordinator of the project. "This exercise provides some context for the larger role of policy in preventing illness and maintaining good health."
Other student groups presented on policies that addressed environmental health, sin tax, e-cigarettes, food scarcity, gun violence and incarcerated youth.
"Listening to my peers was interesting. Different communities have unique healthcare problems, which is something I wouldn't have learned on my own," Hashmi said.