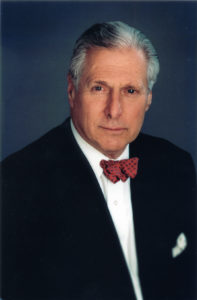 In the recently published book "On Rounds: 1000 Internal Medicine Pearls," Lewis Landsberg, MD, director of Northwestern University Comprehensive Center on Obesity and Irving S. Cutter Professor of Medicine Emeritus, shared "pearls" or nuggets of accumulated wisdom from his nearly 50 years of clinical experience in internal medicine.
"The book encompasses a body of knowledge that an experienced physician would have and the facts that would help simplify complex medical situations and address areas that may be confusing to students," said Dr. Landsberg, also the former dean of the medical school and former chair of the Department of Medicine.
Dr. Landsberg was encouraged by his colleagues to write the book, in which he reflects on his own interests and experience, compiling aphorisms that can serve as a resource and learning tool for students, residents and training clinicians.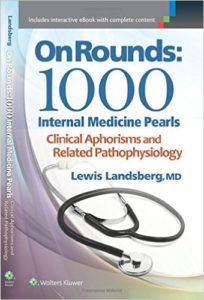 Chapters are organized by topic that include blood, rheumatology, endocrinology and neuromuscular disease. In the course of the book, Dr. Landsberg also touches on a few "faux pearls," or statements that are false even though they are widely believed.
Dr. Landsberg is planning to accumulate more "pearls" for a second volume in the future.
The book is available for purchase at the Northwestern University Bookstore on the Chicago Campus and on Amazon.com.