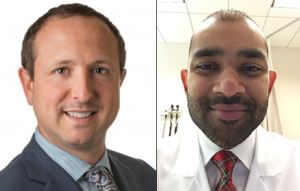 A recent study co-authored by Northwestern Medicine scientists demonstrates a new molecular mechanism that may underlie left ventricular hypertrophy, a pattern of cardiac injury in which the heart's main pumping chamber thickens and stiffens, eventually leading to heart failure.
The findings could lead to important applications for patients with chronic kidney disease, 75 percent of whom will develop left ventricular hypertrophy by the time they reach end-stage kidney disease.
"Left ventricular hypertrophy disproportionately affects the chronic kidney disease population due to a unique set of pathological factors," said co-first author Ansel Amaral, MD, PhD, a second-year resident in the Physician-Scientist Training Program and the Department of Medicine. "This study elucidated a molecular pathway that will provide a new target for pharmacological intervention in the near future."
Working with scientists at the University of Miami, Amaral discovered that activating a cell surface protein called fibroblast growth factor receptor 4 (FGFR4) on heart muscle cells can induce left ventricular hypertrophy in animal models with and without kidney disease. The findings were published in Cell Metabolism.
"This suggests a new avenue for trying to prevent heart disease in settings where FGFR4 is excessively activated," said Myles Wolf, MD, MMSc, director of the Center for Translational Metabolism and Health, who helped lead the research.
The scientists defined the cell-signaling pathway that mediates the hypertrophic growth of heart muscle cells in response to FGFR4 activation, and they showed that blocking FGFR4 with an antibody can help prevent the cardiac injury. Taken together, the study's results suggest a cause of left ventricular hypertrophy that was not known before.
The findings also support previous research reported by Dr. Wolf's group, which linked left ventricular hypertrophy to high circulating levels of the phosphate-regulating hormone fibroblast growth factor 23 (FGF23), which binds to FGFR4 in the heart.
Dr. Wolf, the Margaret Gray Morton Professor of Medicine in the Division of Nephrology, will continue to investigate the mechanisms behind left ventricular hypertrophy, and the role excess dietary phosphate plays in the disease's development, through a Northwestern research center funded by the American Heart Association.
Valentin David, PhD, and Aline Martin, PhD, both research assistant professors of Medicine in Nephrology, also co-authored the recent paper.
The study was supported by Stifterverband für die Deutsche Wissenschaft and Simon-Claussen-Stiftung grant H1405409999915626, Deutsche Forschungs Gemeinschaft grants GR 4228/1-1 and SFB656 C7, Roche Pharmaceuticals, the Max Planck Society, Daiichi-Sankyo, State of Florida grant 3KN05 and the Florida Heart Research Institute, the Starr Foundation, the American Heart Association, the American Society of Nephrology, U3 Pharma GmbH and National Institutes of Health grants F30DK091057, F31DK10236101, F31DK09566101, R01DK090316, R01DK104753, K01AG040468, R01HL110737, R01HL094849, R01HL107110, R01HL084275, R01DK076116, K24DK093723 and R01HL128714.