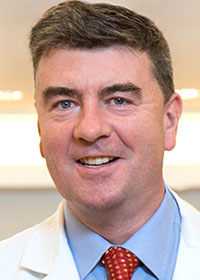 A new international study has shown the efficacy of a kinase inhibitor to treat patients with chronic myeloid leukemia (CML), a form of cancer in which the bone marrow makes too many abnormal granulocytes, a type of white blood cell.
This phase three, open label clinical trial of the drug, called nilotinib, investigated the safety and use of the drug over a minimum two year period as treatment for patients recently diagnosed with CML. Nilotinib targets the gene sequence, BCR-ABL1, known to be responsible for causing this type of leukemia.
"CML was once uniformly fatal," said principal investigator Francis Giles, MD, chief of Hematology/Oncology in the Department of Medicine. "Over the years, we have learned that if you hit BCR-ABL1 hard, early and in the right way, most patients with an early phase of this leukemia will have a normal lifespan, retain fertility and be able to live a full, productive life."
While previous studies showed improved efficacy of nilotinib over existing drugs, this trial was the first study to evaluate the ability of the drug to obtain very deep molecular responses as the primary end point. This focus is a prelude to tyrosine kinase inhibitor (TKI) cessation in patients with CML. The results were recently published in Leukemia.
The study enrolled 1,091 adults across 307 sites in 26 countries, and involved multiple parallel studies that address the molecular genetics of CML, stem cell behavior in CML, telomerase length, BCR-ABL1 mutations and changes in immune parameters in study patients. Molecular responses were assessed every three months using PCR analysis, and the scientists observed how many patients fell below the threshold of detectable disease where discontinuation of the drug would be a reasonable option.
"Well designed late phase studies can generate both valuable clinical and pre-clinical information," Dr. Giles said, also the deputy director of the Robert H. Lurie Comprehensive Cancer Center of Northwestern University and director of the Northwestern Medicine Developmental Therapeutics Institute. "The accompanying data that has come out of this study will guide the development of other therapies."
"This study has been an exemplar of international collaboration," Dr. Giles said. "The group has helped to define optimal use of one agent, to set up an international network of laboratories offering standardized molecular disease quantitation in CML, and generate fundamental data on the pathophysiology of the disease."
Dr. Giles is now working on cessation studies to learn how soon TKI therapy can safely be discontinued in patients with deep molecular remissions in CML. He will also investigate the use of immune modulators in this disease and how they may fit into a treatment plan when combined with TKI.
"If we can offer over 90% of patients a normal lifespan, that's great—unless you are one of those who don't benefit. I'm very determined to keep a spotlight on those patients: 90 plus is great, but 100 is true success."