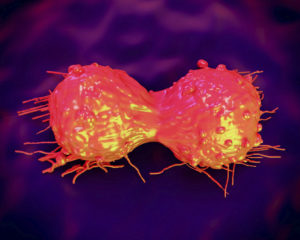 During mitosis, single cells divide into two cells, each with the same chromosomes and DNA as their parent cell. For years, scientists have wondered exactly what happens to gene expression while cells undergo cell division.
"This has been a major unknown," said Ali Shilatifard, PhD, chair and Robert Francis Furchgott Professor of Biochemistry and Molecular Genetics. "What is happening with transcription on chromosomes during mitosis?"
Transcription is the process in which genetic information from DNA is copied into RNA to produce proteins. It begins when polymerase II (Pol II) and other enzymes assemble at a DNA sequence near a gene. It was thought that Pol II and other transcriptional factors simply fall off the chromosome during mitosis, so the chromosome can be duplicated.
Now, in paper featured on the cover of Molecular Cell, Shilatifard and first author Kevin Liang, PhD, a graduate student in Shilatifard's lab, disproved that longstanding theory. They showed that a series of genes within the genome contain paused Pol II during mitosis. When these genes transcribe at the beginning of mitosis, Pol II is released and cleared from the mitotic chromosomes. Importantly, the genes must finish transcribing in order for cell division to work.
"We have identified what we call mitotic transcriptional activation, or MTA," Shilatifard said. "We think it's a stage that takes place during mitosis and has to be completed so the cells can move forward through cell division."
Indeed, Liang demonstrated that stopping this stage interferes with a cell's ability to proceed through mitosis.
Though the findings of this study answer one big question, they introduce many more.
"We have opened up a new area in understanding the role of transcription during mitosis," said Shilatifard, who is also a member of the Robert H. Lurie Comprehensive Cancer Center of Northwestern University. "What are the functions of these genes? Are there anomalies associated with transcription during mitosis that cause different birth defects or the development of cancer? These are all new questions that we can now pursue."
This study was supported by National Institutes of Health grant R01GM069905.