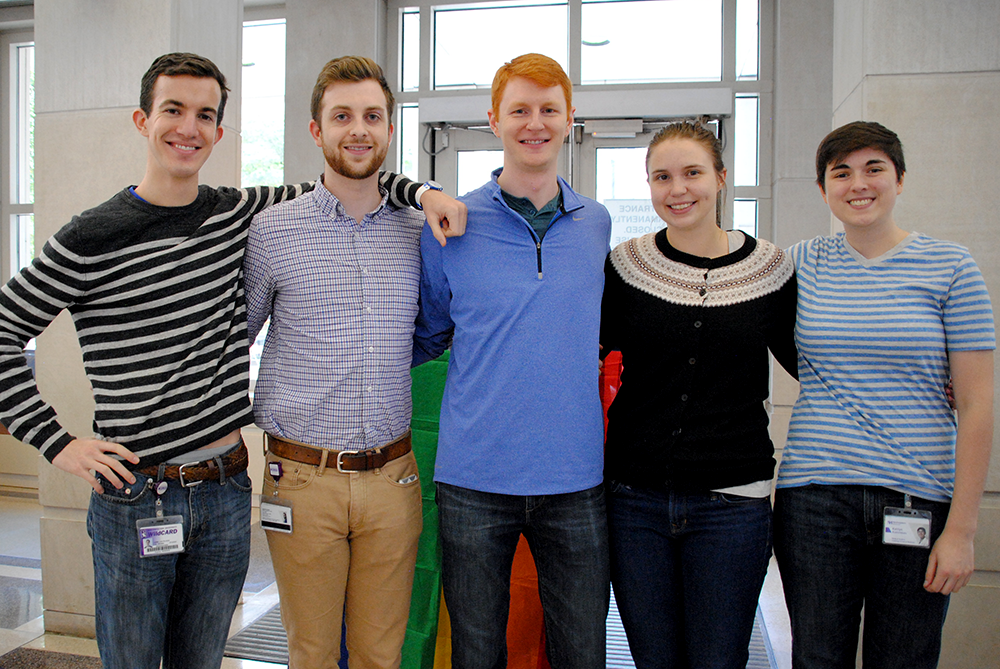 First-year medical students Lynn Ren and Jacob Davidson weren't sure what to expect from the lesbian, gay, bisexual and transgender (LGBT) community at Feinberg when they arrived at the medical school. But student group Queers and Allies and Feinberg's Office of Diversity and Inclusion quickly eliminated any uncertainty.
"They connected us early with others who are out and to a lot of resources here at Feinberg and in the city of Chicago," said Ren, who is an MD/PhD student in the Medical Scientist Training Program (MSTP). "It's so important to have this good support system because it can be intimidating to get involved on your own."
At mixers, dinners and coffees, Ren and Davidson have met friends and learned about opportunities to help shape a curriculum that incorporates LGBT health issues.
"The community here has made me feel welcome and relaxed," Davidson said. "It's open and at the same time tight-knit. We're here for each other, and we have a lot of fun."
On Friday, October 9, Ren and Davidson socialized at an event celebrating the release of the medical school's first annual OutList, a voluntary public roster that includes more than 130 faculty, staff, students, residents and fellows who identify as LGBT.
"One goal of the OutList is to shine light on the impact that members of the LGBT community are making throughout Feinberg," said Anthony Gacita, a second-year MSTP student and president of Queers and Allies, which organized the event. "Another goal is to foster informal mentoring relationships between faculty, staff and students who can discuss topics specific to LGBT issues in medicine."
The OutList is just one of several programs that Queers and Allies facilitates to promote the acceptance of LGBT individuals at Feinberg. The group serves as an educational and social resource, helping facilitate safe space training with the Office of Diversity, lunch talks to discuss LGBT issues and admissions recruitment events. Queers and Allies is also involved in Northwestern's Gender and Sexuality Task Force, which evaluates and identifies opportunities to improve current curriculum.
"LGBT health and medical education is currently a very hot topic. With growing acceptance of LGB, and especially T individuals in society, the health disparities affecting these populations are starting to become more apparent," Gacita said. "Feinberg is committed to training physicians who are able to deliver culturally competent care to help combat health disparities. This dedication is a jumping board to implement new LGBT health and medical education topics into the curriculum. We're very excited about the changes to come!"
The Queers and Allies website contains more information about LGBT resources and programs at Feinberg.
"No matter the dimension—race, ethnicity, gender identity, sexual orientation, socioeconomic status, age, physical abilities, religious beliefs, political beliefs or other ideologies – we operate on a premise of acceptance and respect, recognizing that each individual is unique," said Teresa Mastin, PhD, who was recently named director of Diversity and Inclusion at Feinberg. "This enables us to move beyond mere tolerance to embracement and celebration of both the individual and what emerges from the collective interaction."