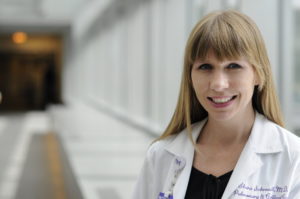 As the first medical director of Feinberg's Office of Continuing Medical Education, Clara Schroedl, '06 MD, '09 GME, instructor in Medicine-Pulmonary and Critical Care, will oversee plans to expand and improve current education offerings through innovation and technology, as well as the office's upcoming reaccreditation.
"I think it's an exciting time for us," Dr. Schroedl said. "CME has never had a medical director before, and so I'm hopeful that I can provide some new insight and ideas for innovation for the office, in addition to continuing to do what we already do and deliver."
The Office of Continuing Medical Education offers and provides credit for live events such as conferences and regularly scheduled series, including grand rounds and journal clubs. In 2014, the office accredited 1,897 live courses, 97 series, 11 live Internet courses and 41 enduring materials. It also serviced nearly 40,000 physicians, from Northwestern and far beyond. As Feinberg's CME program undergoes reaccreditation, Dr. Schroedl said she and her team will be reassessing their programs and reaching out to learners for feedback on ways to expand and improve.
"We want to make sure what we are offering still meets the needs of the Northwestern community," she said. "It will be an opportunity to gather more information so we can change over time."
Dr. Schroedl also plans to develop more online content and bring more innovative teaching techniques to CME, including simulation modules, audience response systems and small group learning.
"You can always sit down in a classroom and listen to a lecture, but there are other exciting, more innovative ways to provide education and we can study those interventions to see if they are making a difference in patient outcomes and physician performance," she said.