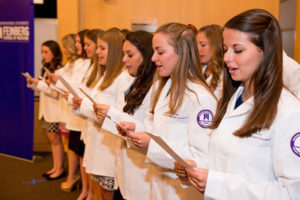 Though Claudia Covaciu worked in banking for more than six years after graduating from Babeș-Bolyai University in Cluj-Napoca, Romania, she has always aspired to have a position in the medical field. So in 2010, she quit her job and started taking prerequisite courses for Feinberg's Physician Assistant (PA) Program.
"Feinberg attracted my attention because of its prestige, but also because it's affiliated with one of the best hospitals in the country, Northwestern Memorial Hospital. Learning from the best educators and the best medical practitioners is a pretty good incentive to be here," said Covaciu, who has been living in the Chicagoland area for 12 years. After leaving banking, she worked as an EMT to get clinical experience, one of the PA Program's pre-admission requirements.
On June 5, Covaciu and her 29 classmates in the PA Class of 2017 received their white coats during a ceremony kicking off the two-year master's degree curriculum. Michael MacLean, MS, PAC-C, director of the PA Program, explained to the students what the white coat represents.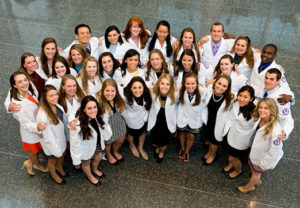 "There are expectations associated with the coat: accomplishment, medical knowledge, compassion, trust, caring and hope," MacLean said. "Over the next two years, you will develop comfort with the coat. It will no longer be bright white and it will no longer feel like a costume. It will become part of who you are: A clinician. A PA."
Abigail Peters, a second-year PA student and president of the Class of 2016 welcomed her new peers to the program.
"As the incoming PA students embark on an incredibly demanding year of study, my advice to them is to make time for what's important," Peters said. "Try to schedule time for whatever is an individual priority, such as exercising, volunteering, spending time with family or getting to know new classmates. This will help balance the rigors of PA school, and ultimately lead to a more rewarding and enjoyable didactic year."
Ratna Kanumury, MMSc, PA-C, director of Physician Assistant Services at the Cook County Health and Hospital System, presented the event's keynote address, and faculty then bestowed the students with their first white coats. Afterward, the new class recited the Physician Assistant Student Oath.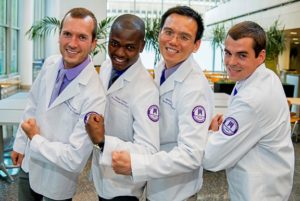 Selected from a pool of 1,735 applicants, the Class of 2017 represents a diverse and accomplished group. The students hail from 24 different undergraduate institutions where they studied 15 different undergraduate majors. There are two international students and three with prior master's degrees. They also have significant hands-on patient care experience, having logged an average of almost 4,000 clinical hours before arriving at Feinberg.
"I'm really looking forward to learning everything I can from the curriculum, but also from my classmates. Everybody has different trainings and backgrounds, and I think we can all teach each other a lot," said first-year PA student Melissa DeMiglio, who worked as a respiratory therapist after graduating from Ohio State University in 2013.
DeMiglio said she is excited about participating in the PA program's problem-based learning method and, of course, to seeing her first patient.
The PA program features a didactic year with lectures and small group discussions, followed by a clinical year consisting of 11 rotations at sites throughout Chicago.