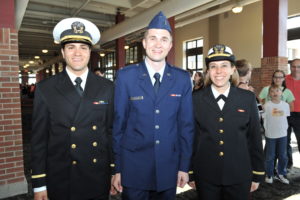 In a sea of identical purple robes, Elijah Burton, Holly Schmidt and Yousef Ahmed resembled all the other graduates of Feinberg's Class of 2015 at this year's medical school commencement ceremony. Unlike their fellow classmates, however, these three graduates also wore uniforms of the U. S. armed forces underneath their academic regalia.
For these three newly minted doctors, a promotion ceremony at this year's commencement celebration marked not only the completion of their medical degrees from Feinberg, but also the beginning of their journeys as military physicians and their ascension to military officer rank.
"Initially, I looked at the military as a great way to help me pay for medical school, but as I talked with Navy recruiters, the opportunity also appealed to my sense of adventure and my desire to be part of something bigger than myself, even bigger than the medical field," said Holly Schmidt, '15 MD, a lieutenant in the U.S. Navy.
Schmidt was commissioned to the U.S. Navy in June of 2011, shortly after completing her undergraduate degree at Washington University in St. Louis. She will begin a residency in family medicine at Naval Hospital Jacksonville in Jacksonville, Fla. this June.
"I really enjoy treating veterans, but also the monetary pressures are different within the military healthcare system. We're still concerned with cost efficiency and effectiveness, but the focus is different from the civilian system. It allows me to focus on doing what's truly best for my patients," said Dr. Schmidt.
Elijah Burton, '15 MD, captain USAF, resident 60th Medical Group in the U.S. Air Force, said the military greatly shaped how he views medical teams.
"The hierarchy of power in the hospital is similar in a lot of ways to the hierarchy of rank in the military. My officer training taught me that everyone on a team can contribute, even when you're at the bottom," Dr. Burton said. "This gave me the courage to speak up and contribute, even as a medical student."
Burton joined the U.S. Air Force shortly after completing his undergraduate degree at the University of Kansas. He will be starting a residency in diagnostic radiology at Travis Air Field Base in California. He hopes to someday be involved in medical student and resident education.
"I've always loved teaching, so I think that desire has always been there, but that desire was definitely solidified by the great residents and attending physicians at Northwestern who really took the time to sit down and teach me something they were passionate about," Dr. Burton said.
Yousef Ahmed, '15 MD, a lieutenant in the U.S. Navy, known as the 'Navy guy' on campus, said his military experience deepened his relationships with faculty, patients and his fellow medical students.
"Every one of us comes from a different background, and we all have something to bring to relationships," said Dr. Ahmed. "I think I brought a lot of respect to the faculty and my patients here at Northwestern. I also enjoyed being able to share stories from my time at the Naval Academy with my classmates."
Ahmed joined the U.S. Navy at 18 years old, and began studying as a midshipman at the U.S. Naval Academy. After graduating from the academy, he entered medical school at Feinberg. This June, he will begin a rigorous 9-year residency at Naval Medical Center Portsmouth in Portsmouth, Va., in anesthesiology and general surgery. He also hopes to pursue a career in academic medicine.
"It's a real honor to be able to both serve my country and pursue a career in medicine. It's something I can't take lightly," said Dr. Ahmed. "There is a long tradition of people who have done great things before me, and it's important to me to continue to uphold that standard."