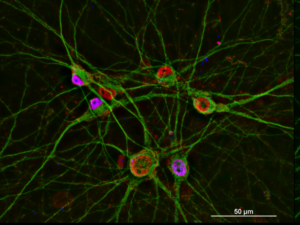 Early this year, Northwestern Medicine launched a new lab for ALS research: Led by Evangelos Kiskinis, PhD, assistant professor in the Ken & Ruth Davee Department of Neurology and Physiology, the lab uses human stem cells to create and study motor neurons, the cell type primarily affected in the neurodegenerative disease.
"In 2006, Japanese scientist Shinya Yamanaka showed that you can reprogram any somatic cell from any individual to generate embryonic cells," Kiskinis said. "This groundbreaking technology allows us to develop induced pluripotent stem cells from any given individual, including ALS patients. From their stem cells we can make the neuronal subtypes implicated in the disease."
He joins Pembe Hande Ozdinler, PhD, assistant professor in Neurology, and Teepu Siddique, MD, Les Turner ALS Foundation/Herbert C. Wenske Foundation Professor in Neurology and Cell and Molecular Biology to head one of a trio of labs housed in the Les Turner ALS Research and Patient Center at Northwestern Medicine.
ALS is marked by the degeneration of motor neurons: upper motor neurons and spinal motor neurons that project axons to control voluntary and involuntary muscle movement. But the genes associated with ALS encode proteins expressed in cells through the human body. Kiskinis wants to know why they initially affect only the motor neurons.
"We try to address this question by making different neuronal subtypes and comparing and contrasting how they cope with mutations that cause this disease," he said. "We want to identify specific characteristics motor neurons have that make them vulnerable and, inversely, characteristics they don't have that protect other cells. These would be great therapeutic targets."
Kiskinis' lab also uses a tool called genome editing to model ALS genetic mutations in vitro.
"We fix the mutation and generate a stem cell line from the parental patient line," he said. "This way, we can study the disease in two lines, called isogenic pairs, that have exactly the same genetic background, one with and one without the mutation."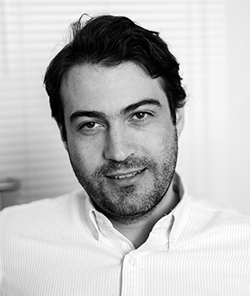 "We want to fix the mutations for every gene that causes ALS and then make motor neurons from these cells," he said. "The question we want to answer is: How similar or different are the disease processes in each of the mutations? Then we can begin to address how sporadic ALS cases with no family history – by far the majority of all types – relate, if at all, to the genetic cases. It's not an easy task, but we have all the tools we need to do this."
Understanding the different forms of ALS is important for developing personalized therapies, and designing clinical trials to test them.
"ALS is a terrible, untreatable disease with just one FDA approved drug that really doesn't do much," said Kiskinis, who joined Northwestern in January after completing a postdoctoral fellowship at the Harvard Stem Cell Institute. "There's a real need for better therapeutic approaches. We can apply our methods to ALS to make novel discoveries that hopefully have an impact in the fight against the disease."
His lab is also exploring a genetic type of epilepsy called Dravet Syndrome, using many of the same approaches he takes for his ALS work – creating isogenic lines and generating different subtypes of the neurons implicated in the disease. The ultimate goal is to develop a human cellular model of epilepsy. For this research, he's collaborating with professor Douglas Nordli, MD, and assistant professor Linda Laux, MD, '01 GME, both in Pediatrics-Neurology.
"The opportunity for collaborations is one of the great things about being here at Northwestern," Kiskinis said. "I'm surrounded by great neurologists that see patients everyday. I can learn a lot from them, about what problems they see and what solutions they're looking for from a clinical perspective. We can work together to address these issues from my basic science research perspective."