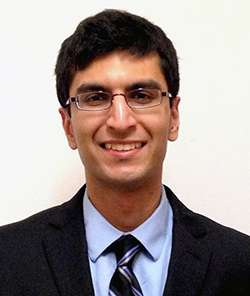 A successful surgery depends not only on actions in the operating room, but also on decisions made before and afterward. In several recently published papers, fourth year medical student Shobhit Minhas focused on broadening understanding of the adverse events that can occur following an orthopaedic procedure.
"During my third year, I started doing literature reviews to identify some of the unanswered questions in orthopaedics," Minhas said. "I wanted to find out what interested me and to start formulating studies to try to actually answer some of these questions."
Applying what he learned about the pre- and post-operative courses of surgery as part of Feinberg's MD curriculum, Minhas decided to investigate the factors that put patients at risk for complications after surgery.
"Knowing more about potential risks can help medical practitioners determine which patients should have more stringent follow-ups," he said. "It can also help them better inform individual patients about risks before they undergo surgery."
Minhas is particularly interested in spine surgery. In a paper published February in the Journal of Pediatric Orthopaedics, he examined the incidence, reasons and risk factors for 30-day unplanned readmissions after scoliosis surgeries.
"Scoliosis has a very diverse patient population – some may have no other health issues, while others may have cerebral palsy or another neuromuscular disorder," said Minhas, who was the paper's first author. "It's useful to stratify which patients with specific types of scoliosis are most likely to come back to the physician, especially because readmissions are usually preventable."
Working with mentors including Joseph Janicki, MD, assistant professor, Alpesh Patel, '00 MD, associate professor, and Anish Kadakia, '00 MD, '05 GME, associate professor, all in Orthopaedic Surgery, Minhas developed the ideas, analyzed data and prepared manuscripts for his studies. He says that the experience has inspired him to prioritize research in his future career.
"Going through the research process from start to finish became more addicting the more I got involved," he said. "I'm excited to learn more about the specificities of surgical procedures, to expand my research beyond risk stratification models. I hope to someday have a big impact on some of the big questions in orthopaedics."
Minhas will begin a five-year residency in orthopaedic surgery at NYU/Hospital for Joint Diseases after graduating from Feinberg this May.