During Lewis Landsberg Research Day, Sara Majewski, research assistant in Dermatology, mingled among hundreds of Feinberg faculty, fellows, residents, students and staff, all taking a break from their labs, clinics, classrooms and offices to showcase their research.
"Today has been wonderful. I've been able to talk to so many people in different fields," she said, standing in front of her poster with Beatrice Nardone, MD, PhD, principal investigator of her study. "It raises a lot of questions that will help improve our project."
Research day, now in its eleventh year, included a poster competition featuring 322 presentations from almost every department of the medical school, ranging from basic science to clinical research to public health and social sciences.
For her project, which won first prize for clinical science, Majewski searched Northwestern Medicine's electronic medical records to look at two types of antihypertensive drugs and risk of melanoma and non-melanoma skin cancer.
"After controlling for age, gender and race, we found that there was an increased risk for both types of skin cancers after chronic exposure to either drug," she said. "This is an interesting topic because inconsistent findings have been published. There's been back and forth on whether these drugs have carcinogenic tendencies."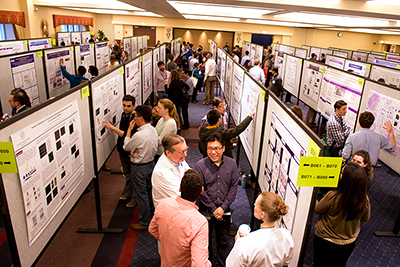 Eric G. Neilson, MD, vice president for Medical Affairs and Lewis Landsberg Dean, welcomed attendees during the event's opening remarks.
"Research Day is an opportunity to ask questions, engage with faculty and student scientists and seek out opportunities that may lead to new discovery," he said. "This event has grown immensely to become one of the most important activities at the Feinberg School of Medicine."
Keynote speaker Elaine Fuchs, PhD, an investigator at the Howard Hughes Medical Institute and Rebecca C. Lancefield Professor in Mammalian Cell Biology and Development at The Rockefeller University, delivered a presentation titled "Stem Cells in Silence, Action and Cancer."
"My message today at Research Day goes so much deeper than stem cells and cancer. I wanted to convey my own research in a way that illustrates how passionate I am after all of these years, to encourage students and postdocs to pursue the questions they're passionate about answering and to maintain that passion through the course of their careers," Fuchs said afterward, while perusing the poster session.
At the end of the event, participants gathered in Northwestern Memorial Hospital's Feinberg Pavilion to celebrate some of the most innovative research in this year's poster competition. Senior faculty judges rated each project based on relevance to an important or emerging area of science, study design and other criteria. Rex Chisholm, PhD, vice dean of Scientific Affairs and Graduate Education, announced the awards.
---
This year's winners include:
Basic Science: Tomokazu Souma, MD, PhD, and Benjamin Thomson, "Ectodomain mutations in the Tie2 receptor cause primary congenital glaucoma"
Clinical Research: Sara Majewski, "Risk of melanoma and non-melanoma skin cancer after exposure to antihypertensive drugs: A report from the RADAR (Research on Adverse Drug events And Reports) project"
Public Health and Social Sciences: Elizabeth Groothuis, MD, MPH, "Lollapalooza and Teenage Boozers: Binge Drinking at a Music Festival in Chicago"
Medical Women Faculty Organization Founders Awards:

Basic Science: So-Youn Kim, PhD, "Cisplatin and radiation induce loss of ovarian reserve by activation of TAp63 through different mechanism"
Clinical Research/Public Health: Luis Blanco Jr., MD, "Increased CD68-Positive Macrophages and CD4-Positive Lymphocytes in Tumor Associated Inflammation in Pregnancy Associated Breast Cancer May Contribute to a Poor Prognosis"
ARCC Community-Engaged Research Partnership Award: "Partnership to Advance LGBT Health and Wellness." This long-standing partnership between the Center on Halsted and the IMPACT LGBT Health & Development Program at Northwestern University, led by Brian Mustanski, PhD, associate professor in Medical Social Sciences and Psychiatry and Behavioral Sciences, collaborates on research projects aimed at improving lesbian, gay, bisexual and transgender health.