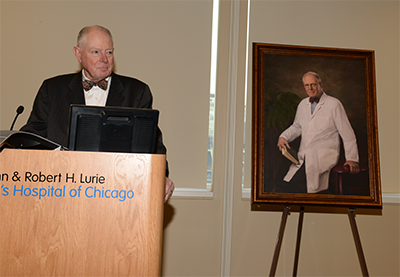 Vaccines have had a long and successful history of protecting patients from disease, but a recent increase in patients' hesitance towards vaccines has created significant challenges for doctors and concerns about the impact on the health of the public.
As part of their Pediatric Ground Rounds series, the Department of Pediatrics hosted "Understanding & Dealing with Vaccine Hesitancy," to help equip doctors to understand and address issues surrounding resistance to vaccines among their patients.
Martin Myers, MD, a virology expert and professor emeritus in Pediatrics and Preventive Medicine at the University of Texas, addressed some of the reasons parents may choose to not vaccinate their children, and ways physicians and other medical professionals can make sure those patients receive the most accurate information possible.
"The irony of this is, because of vaccinations, these diseases have become less common — so it's hard for parents to understand the importance. They don't see or know anything about the diseases vaccines prevent," Myers said.
Dr. Myers emphasized that physicians and other healthcare professionals are often the most trusted source of information, making it important for them to communicate clearly with patients so they understand the information being presented.
Dr. Myers said there are three factors that can often prevent a doctor's message about vaccines from being understood: innumeracy, or the patients' inability to understand statistics associated with disease risk; the language doctors use when talking to patients; and misinformation patients may receive from others.
"As physicians, it's really important that you all understand the diseases and know them well, so you are able to teach your patients and their families," Dr. Myers said.
Jacob Spitznagle, a fourth-year medical student, attended the lecture. He said one of the key messages he took from the presentation was that there can be a discrepancy between what a physician says and what the patient actually hears and understands.
"Conversations like the one had today at Grand Rounds are extremely important in that they allow experienced physicians to share their successful – and unsuccessful – strategies to counsel patients," Spitznagle said. "I understand that not every parent will be willing to change their opinion on vaccinations, but I feel more confident in my ability to impact their decisions."
Before the conference, Dr. Myers, a former professor and past chair of the Department of Pediatrics at Feinberg School of Medicine, was presented with a portrait commemorating his years of service to the Northwestern University and the Ann & Robert H. Lurie Children's Hospital (formerly Children's Memorial Hospital). The painting will be displayed, along with those of other former department chairs, outside the conference center at Lurie Children's.