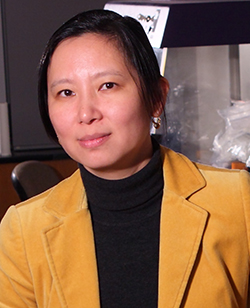 Xunrong Luo, MD, PhD, associate professor in Medicine-Nephrology, Microbiology-Immunology and Surgery-Organ Transplantation, has been selected to receive the American Society of Transplantation (AST) Basic Science Investigator Award.
She will accept the award, which goes to mid-career investigators who have made substantial contributions to the field of transplantation medicine, on May 5 at a ceremony during the American Transplant Congress in Philadelphia.
"I am absolutely thrilled and at the same time hugely humbled by this award. It is a great honor for me to gain a position in this league of highly respected researchers in the field of transplantation immunology," Dr. Luo said. "It is also an enormous motivation for me to continue my research pursuit in this field, only with more rigor, enthusiasm and devotion."
Her research focuses on finding effective ways to achieve immune system tolerance in patients who receive organ or tissue transplantations, with the goal to prevent rejection of a transplanted organ or tissue without patients needing to take drugs that suppress their immune system for the rest of their lives.
"In my lab, we use small and large animal models to study strategies for transplant tolerance induction and their immune mechanisms," Dr. Luo said. "We are also working closely with bioengineer collaborators to use nanotechnology to effectively induce such immune tolerance for transplant recipients."
Dr. Luo's lab is also investigating beta-cell replacement therapy for patients with insulin-dependent diabetes. In 2013, she co-led a study that successfully transplanted insulin-producing cells called islets from one species to another, a step that may eventually help people with type 1 diabetes control their disease. In that study, she and colleagues developed a method that prevented rejection without immunosuppressive drugs.
"Through her work elucidating the mechanisms of the immune response, Dr. Luo is most deserving of this award. It is fitting that after a decade at Feinberg, her body of research is being recognized by the transplant community," said John Friedewald, MD, associate professor in Medicine-Nephrology and Surgery-Organ Transplantation, who nominated Dr. Luo for this accolade. "The AST Basic Science Investigator Award signifies one of the highest levels of achievement in the field of transplant research."
Dr. Luo received her medical and doctorate degrees from Duke University before completing a clinical medicine residency and a transplant nephrology fellowship at NewYork–Presbyterian Hospital/Weill Cornell Medical College in 2005. She joined the Feinberg faculty in 2005.