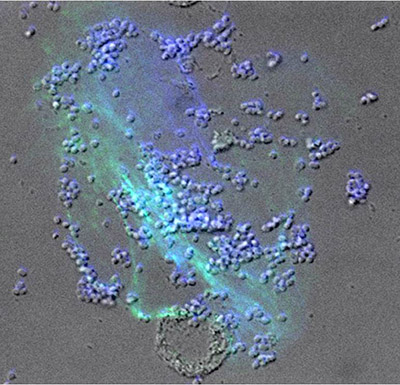 Northwestern Medicine scientists have shown that Neisseria gonorrhoeae, the bacteria that causes the sexually-transmitted disease gonorrhea, may have evolved to manipulate host immune responses to enhance infection and outcompete other bacterial species.
Previous studies from the laboratory of H. Steven Seifert, PhD, professor in Microbiology-Immunology, reported that the gonorrhea bacteria – also called gonococci –suppresses many antimicrobial responses of the host. In the current study, Carl Gunderson, PhD, a postdoctoral fellow, used gonococcal mutants to learn more about the relationship between gonorrhea bacteria and leukocytes, a type of white blood cell.
"A lot of work has been published on the bacteria and leukocyte interactions, but the factors driving infection are not fully understood," Seifert said.
In the current study, published recently in mBio, Gunderson and Seifert found evidence that gonococci can induce and suppress the activity of leukocytes and that this activity is dependent on the ratio of bacteria to host cells. The study also found that the bacteria cause leukocytes to release DNA and other nuclear material to create structures, called neutrophil extracellular traps (NETs), to capture and kill microbes other than gonococci.
Gunderson and Seifert investigated the role of NETs in gonococcal infection and demonstrated that the gonococci resist NETs antimicrobial mechanisms, while other bacteria in the reproductive tract are effectively killed. The ability of gonococci to manipulate leukocyte function suggests that the bacterium has evolved strategies to modify leukocyte function to promote infection.
"The fact that the gonococci are not killed and other commensal bacteria are killed is an open possibility that the gonococci are increasing competitive fitness," Seifert said.
In future studies, the Seifert laboratory will determine the mechanisms behind the ability of the bacteria to suppress leukocytes and activate production of NETs.
"The next two questions we'd like to answer are one: what are the bacterial factors that are responsible for eliciting this response? And two: what are the post-cell neutrophil pathways that are affected?" he said.
The research was supported by National Institutes of Health grants R01 AI044239, R37 AI033493 and T32 AI747614.