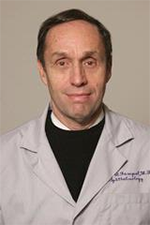 A national study led by Northwestern Medicine shows the drug Eylea is superior for improving the eyesight of persons with poor vision due to diabetic macular edema, a major cause of vision loss from diabetes, according to Lee Jampol, MD, Louis Feinberg, MD, Professor of Ophthalmology. Dr. Jampol chairs the Diabetic Retinopathy Clinical Research Network, which produced the paper published in the New England Journal of Medicine.
For individuals with only mild vision impairment (20/40 to 20/32), all three existing drugs to treat diabetic macular edema – Eylea, Lucentis and Avastin – performed similarly. Eylea was more effective for patients with 20/50 or worse vision.
"This condition is an increasingly common public health problem due to the increasing prevalence of obesity and resulting diabetes," Dr. Jampol said. "The study will help doctors and patients make informed decisions about which drug to choose for treatment."
Diabetic macular edema is the major cause of diabetes-related vision loss. It can occur in people with diabetic retinopathy, an eye disease associated with abnormal blood vessels in the retina. Diabetes damages blood vessels in the eye, causing them to leak and the retina to swell. The condition distorts vision and can result in blindness. An estimated 7.7 million people in the U.S. have diabetic retinopathy, and 750,000 of them have diabetic macular edema.
In the study, the group with initial poor vision (20/50 or worse at the start of the trial) that took Eylea improved on the average about 18 letters on the eye chart, almost four lines. The group taking Lucentis improved on average almost three lines, and those on Avastin improved on average almost 2.5 lines.
All three drugs target a substance called VEGF, vascular endothelial growth factor, which causes the blood vessels to leak. The drugs work by binding to VEGF or blocking its action, thereby reducing swelling.
In addition, a smaller percentage of patients on Eylea (36 percent) required laser treatment for persistent edema that did not resolve with the anti-VEGF treatment alone, compared to those on Avastin (56 percent) or Lucentis (46 percent.)
The trial enrolled 660 participants with diabetic macular edema at 88 clinical trial sites across the U.S. When the study began, participants were an average of 61 years old and had type 1 or type 2 diabetes for an average of 17 years.
The study was funded by grants EY14231, EY14229 and EY18817 from the National Eye Institute of the National Institutes of Health.
If you are interested in participating in research at Northwestern University, please call the NU Study line at 1-855-NU-STUDY. Or get connected by visiting https://registar-prod.nubic.northwestern.edu to sign up for Northwestern's Research Registry.