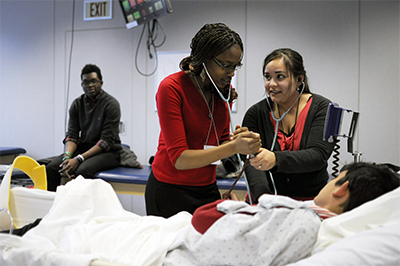 Feinberg medical and physical therapy students led a group of high school and college students through neurology, engineering, acute care and orthopaedic hands-on learning stations during the fifth week of the Health Professions Recruitment & Exposure Program (HPREP).
With the goal to expose underrepresented minorities in high school and college to careers as health professionals, this is the first year the HPREP participants, from Chicago area high schools, had the chance to do activities in physical therapy since its inception in 2004.
"I like having the chance to provide this exposure to students, because it is an important piece of inspiring these students to pursue careers as health professionals," said Samuel Gallardo, a second-year doctor of physical therapy student. "It's easy for someone to say, 'I want to be a doctor, I want to be a nurse, or I want to be a physical therapist.' This program shows them what those careers look like and what it takes to pursue them and succeeding in school."
Throughout the six-week program, participants learn about health professions through anatomy classes, problem-based learning cases and a mentored research project.
"This program gives them an opportunity to make connections. It allows them to have a mentor or person they can reach out to and follow their footsteps to their own goals," said Beverly Aiyanyor, a first-year medical student and a program coordinator.
HPREP is organized and led by members of the Student National Medical Association and Latino Medical Student Association with support from the Office of Diversity.
Emmanuel Ogele, a first-year medical student and program coordinator, said, "For me the program has provided a lot of perspective. It's really easy to get caught up in studying, but I think about the role I want to play in society, as a doctor and as a mentor, and for me that big picture perspective is a nice complement to the more concrete medical education."
Medical students mentor participants and guide them through a research project, which culminates at the end of the program with a poster presentation. Students chose topics that have affected them personally or a family member, such as stroke, Crohn's disease or infertility.
"At the end of each week's session, I get a burst of energy because you can see the spark in their eyes when they meet someone in a profession or a specialty that they have considered but have never had any interaction with a person in that field; seeing them get excited makes you excited," said Genevieve Umeh, first-year medical student and program coordinator. "It will be nice to see them next week to present something that is personal to them. They've been working hard for the past five weeks."