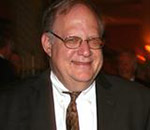 Jonathan Leis, PhD, professor in Microbiology-Immunology, received an IllinoisVentures grant, a University of Illinois fund that supports the commercialization of new technologies, for his research on small molecule inhibitors that block the replication of enveloped viruses such as herpes and HIV.
Leis' research focuses on the basic mechanisms of how viruses bud from cells, which allows the virus to leave the host cell and spread infection.
"We wanted to see if we could find small molecule inhibitors to disrupt the mechanism of virus release by disrupting the budding process," said Leis, one of five researchers to receive grants from IllinoisVentures. "If we can disrupt the process leaving virus particles attached to the cell membrane then the virus can't easily spread to infect other cells.   This would amount to the development of broad-based antiviral agents."
Leis' laboratory has identified several compounds that block the release of retroviruses from tissue culture cells.
"This small grant funding allows us to make analogs of our lead compound, which we can then test to see if it is a more potent antiviral agent without increasing its cell toxicity," he said.
If successful, this will lead to testing the drug in animal studies.
IllinoisVentures is a joint effort by Argonne National Laboratory, Illinois Institute of Technology, Northern Illinois University, Northwestern University, Southern Illinois University, University of Chicago, University of Illinois at Chicago, and University of Illinois at Urbana-Champaign, as well as the Illinois Department of Commerce and Economic Opportunity and the Illinois Science & Technology Coalition.