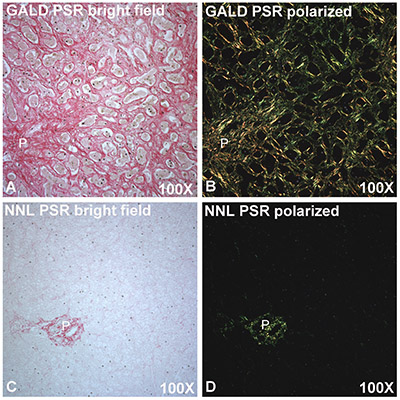 By examining liver specimens of patients with gestational alloimmune liver disease (GALD), the most common cause of fetal liver injury, Peter Whitington, MD, professor in Pediatrics and Medicine, Gastroenterology, Hepatology and Nutrition, uncovered how immune injury to fetal liver cells causes fibrosis.
Fibrosis, the formation of excess fibrous connective tissue, is a constant feature of all chronic liver diseases, but occurs before birth in GALD; children with the disease are born with congenital cirrhosis. The current research investigated how this might occur during the relatively short period of fetal development.
In addition to severe fibrosis, GALD produces liver disease characterized by a scarcity of liver cells and a large number of tubular elements. This study recently published in Human Pathology links the fibrosis to the elaboration of tubules.  Fibrosis appears to be driven by an overexpression of certain signaling pathways.
In liver specimens with GALD, there is a severe lack of hepatocytes, or normal liver cells, which led Dr. Whitington to look at the progenitor elements, or tubules.
"In this case, the injury is happening as the liver cells are developing," said Dr. Whitington, also a member of the Stanley Manne Children's Research Institute and physician at Ann & Robert H. Lurie Children's Hospital of Chicago. "So, they never mature, and the liver is left with progenitor cells [cells that differentiate into other types of cells], but no functioning liver cells, which causes liver failure in the fetus and newborn."
"Nobody knew where these tubules in the liver came from. We showed they express markers normally seen in early liver development and are in fact progenitors," he said. "We proved that the liver is full of progenitors, and they continue to emerge from stem cells as long as there is no feedback to stop developing."
Using immunohistochemistry, his team also examined the relationship between tubule formation and activity of Hedgehog (Hh), a signal pathway active during liver development and important in the repair process of liver cell injury. Their results suggest that formation of tubules may cause fibrosis in GALD and that Hh signaling is a step in the process.
In 2010, Dr. Whitington and his group discovered that GALD leads to severe fetal liver injury and neonatal hemochromatosis, a condition in which fetuses and infants under one month of age accumulate iron in the liver and other tissues. They reported that in GALD, sensitization of some women to a fetal liver antigen resulted in development of specific anti-fetal liver antibodies: when delivered to the fetus, these antibodies bind to the antigen and activate a cascade of pathways resulting in liver cell injury and death.
Once a woman has an infant affected by this disease, there is a high rate of reoccurrence in the next pregnancy. Dr. Whitington invented a therapy to prevent the disease, but diagnosing GALD during the first affected pregnancy remains a challenge.
The main goal is to try to understand the part of an antigen expressed in fetal liver that an antibody reacts to and how it produces disease, Dr. Whitington explained.
"This work is going to tell us how to identify and quantify the causative antibody and allow us to diagnose the disease before it occurs and possibly prevent it," he said.
The research was funded by the Siragusa Foundation, Chicago, IL, and the Pediatric Liver Research Fund, Lurie Children's Hospital Foundation.