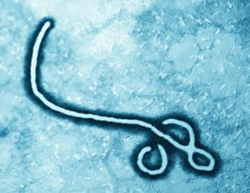 Feinberg faculty members are collaborating with public health officials and hospital staff to help the Northwestern Medicine community plan for Ebola screening, isolation and treatment protocols.
The 2014 Ebola outbreak has infected more than 10,000 in Western Africa. Though there have been only a handful of patients in the United States – and none in Illinois to date – healthcare providers at Northwestern Medicine and across the United States are preparing should any local cases arise.
Sanjeev Malik, MD, '07 GME, assistant professor in Emergency Medicine, serves as the department's medical director. He coordinates with hospital leadership, educates residents and sees patients in an area that would likely be the first stop for patients with the virus.
Dr. Malik answered questions about emergency protocols and resources to help keep healthcare workers, Feinberg students and members of the public safe and informed about the Ebola outbreak.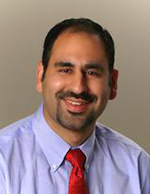 How is the emergency department preparing for the potential arrival of patients with Ebola to Chicago?
The most important work for the emergency department right now is establishing standardized protocols to make sure staff members feel safe – that they have adequate equipment to take care of patients and to protect themselves. One immediate focus is training staff so they feel comfortable using personal protective equipment (PPE). We've all used PPE for standard illnesses in the past, but now we need to make sure we have the right equipment for Ebola and that everyone knows how to put it on and remove it in the proper way to reduce the risk of contamination.
We're using the best information we have from the Centers for Disease Control and Prevention (CDC) and from hospitals in the country that have taken care of patients with Ebola, such as Emory University and the Nebraska Medical Center in Omaha. We're not starting at zero – we're adopting what they've learned and trying to build on it.
If patients with Ebola arrive here, students at Feinberg would not be allowed or expected to participate in their care. However, students may treat patients with infectious diseases later in their careers. How is Feinberg educating students about Ebola emergency preparedness so they will be ready in the future?
Our primary focus is safety. We want to limit the number of providers who would care for these patients. Medical students and residents will not be involved, but everyone can learn from this experience whether or not they come into contact with a patient. Information about emergency preparedness is going out to all healthcare providers, including students and residents. Whether students are interested in emergency medicine, global health or something else, learning about these processes will be invaluable for them to take forward in their careers. We use conference time, question-and-answer sessions and emails to make sure everyone is up-to-date with the best information.
To contract Ebola, a person must have direct contact with body fluids from an infected patient that is already exhibiting symptoms. If that does happen, what should people do?
Members of the public currently have a very low risk of contracting Ebola. But the Illinois Department of Public Health has created a 24-hour Ebola hotline (800-889-3931) manned by experts that can provide a lot of guidance for people with questions or worries. Sometimes visiting the emergency department is the right thing to do – we don't ever want to dissuade people from seeking medical attention when they need to. But there are also a lot of other resources that can provide answers to questions about symptoms and transmission of Ebola. The hotline, the CDC's website and your own private doctor's office are great resources. There's a lot of information out there that can reassure many people.
The CDC has issued travel warnings advising against non-essential travel to the three countries in Africa most highly affected by Ebola: Liberia, Guinea and Sierra Leone. Should people traveling internationally take any additional precautions against Ebola?
Beyond the travel advisories, everyone should just take general precautions, like washing your hands and covering your mouth. There is a lot of general fear about Ebola, and that's completely understandable for a disease that has a high mortality rate. We need to take it seriously and be as prepared as we can, but also manage the fear associated with it.
---
More from Northwestern Memorial Hospital
The Chicago Department of Public Health recently announced that Northwestern Memorial Hospital is one of four Chicago hospitals that have agreed to treat patients with Ebola if someone is diagnosed in the city or within the Northwestern Medicine Health System. The announcement was made as the health system's four hospitals and 60 outpatient sites of care are continuously preparing and updating safety protocols to care for any patients with suspected Ebola Virus Disease.
Northwestern Memorial's plan includes admitting and caring for these patients while Northwestern Medicine's other hospitals – Lake Forest Hospital, Central DuPage Hospital and Delnor Hospital – are prepared to triage and transfer patients, with a contingency plan for patients too unstable for transfer. Outpatient sites of care are prepared to triage and direct or transfer patients to appropriate acute care facilities.
Gary Noskin, MD, senior vice president and chief medical officer for Northwestern Memorial Hospital, is leading Northwestern Medicine's Ebola preparedness and information distribution efforts.
"Nothing is more important than ensuring all of our caregivers are protected," said Dr. Noskin to health system leadership during a recent Ebola preparedness update.
For more information, consult Northwestern Medicine's Ebola Preparedness site.