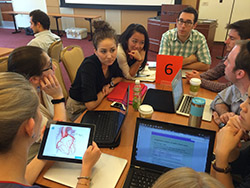 During Synthesis and Application Modules (SAM), medical students review key concepts from their coursework and are assessed on their knowledge. In previous years, students participated in simulation exercises and clinical skills sessions, but this year faculty members introduced the use of tablets into the learning module.
In groups of 10, third-year medical students clustered around iPads to mark the abnormalities in the retina of a diabetic patient. After completing the task, the images were shared in a large class discussion.
"SAM provides repetition and application of materials and allows students to learn in a deep and long-lasting way," said Pat Garcia, MD, MPH, director of the first phase of the medical school curriculum and professor in Obstetrics and Gynecology-Maternal Fetal Medicine. "Medical students are faced with an enormous amount of material and there is no way for them to be able to memorize everything. Medical school for them is about learning to access and apply medical information."
SAM weeks launched in the fall of 2012 along with the new medical school curriculum, which is designed to create a more integrated educational environment, aligning classroom instruction with relevant, hands-on clinical experiences.
"This is the first time we've done one of these modules during the third year and it's the first time we've brought back medical students from all the clerkships for a week period of time," said David Salzman, MD, MEd, assistant professor in Emergency Medicine. "The week gives them the opportunity to get back together to synthesize, integrate and apply a lot of the materials they learned in the basic sciences in the first two years."
As director of the third phase of the new medical school curriculum and director of simulation for undergraduate medical education, Dr. Salzman designs innovative ways to involve medical students in the learning process. He wanted to create a way to have groups share information.
At first he considered doing this activity on paper but decided to try something new.
"This generation of students grew up with electronic devices easily available to them and they are used to engaging with this media," he said. "They are going to learn this way at home, so why not do it in the classroom?"
Dr. Salzman designed the iPad activity to complement information learned in the clerkships and review concepts.
"We knew students would be at different stages of their learning at different points in time. So we try to incorporate as many concepts from different clerkships," he said.
In addition to looking at the pathology of the eye, students worked through questions such as creating a concept map of an initial evaluation of a diabetic patient and observing the effects of diabetes on the heart. Once the assignments were submitted, Dr. Salzman controlled the screens on the iPads and shared select images across all devices.
"By sharing different groups' thought processes and how they approached the questions, they could compare and contrast their group's thinking with other groups," he said.
As Dr. Salzman and his team prepare for the next SAM week in the spring, he keeps the big picture in mind.
"I think about the progression the medical students make from the beginning of medical school and what we want the students be able to do and where we want them to be at the end of four years. I think it's a chance to use ideas like using iPads to identify opportunities where the students can prepare for the future."