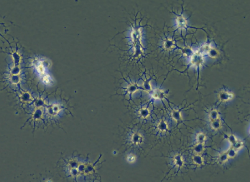 Northwestern Medicine scientists have created a new method to test the effectiveness of drugs that may promote the activity of cells that reverse the progression of multiple sclerosis.
In multiple sclerosis, the immune system attacks the protein membrane covering the part of the neuron cell that sends electrical signals and, as a result, patients with this disease become debilitated. This protein membrane, called myelin, is made by oligodendrocytes, a type of non-neuronal cell.
Andrew Robinson, PhD, lead author of the study, developed a more objective and precise way to count the number of oligodendrocytes in brain and spinal cord tissue samples from animal models. His new method also allows scientists to label these cells along their life span.
"Using this method we can then count how many cells we have along that maturation stage," said Robinson, also a post-doctoral student in the lab of Stephen Miller, PhD, Judy Gugenheim Research Professor of Microbiology-Immunology. "When testing a drug that promotes myelin repair, we would expect to end up with more mature oligodendrocyte cells that would wrap myelin around damaged neurons."
The paper, recently published in PLOS ONE, describes how a scientist can take spinal cord tissue, dissociate it, isolate the oligodendrocytes and use flow cytometry, a laser-based technology used in cell counting, sorting and detection. Robinson used this technique to count and mark oligodendrocytes at different stages in their maturation. Flow cytometry has been used by immunologists, but has remained largely unexplored in neuroscience. This is the first study using flow cytometry to optimize and fully characterize oligodendrocyte cell lineages in mouse models.
"We think this technique will be embraced by the community dealing with demyelinating diseases because it provides an objective, quantitative way to measure whether you have stimulated the increased number or differentiation of the cell population which is critical to trying to reverse the disease," said Miller, also a member of the Robert H. Lurie Comprehensive Cancer Center of Northwestern University.
The techniques also provide a faster way to conduct experiments. According to Robinson, traditional histological techniques are time-consuming, taking months or even longer when investigating different time points in the disease, but this new method shortens the process to a few days.
"It opens the doors to a lot of different things," Robinson said. "The methods described can be used for anything that might have a demyelinating component to it. Scientists could take these methods and apply it to their own set of questions. They could play around with different markers for other cell types or they could mark other cells in the brain. There are a lot of different ways to go."
Next, Miller's group will apply these methods to an animal model with MS and test a drug on its ability to promote myelination in vivo. Based on these experiments Miller and Robinson will be able to test other treatments and more accurately score drug effectiveness. In a previous study, Miller's lab developed a therapy that works effectively in treating and preventing MS in animal models.
"If you don't deal with the underlying autoimmune issue then it's like adding more fuel to the fire," said Miller. "You really have to do both. You have to stop the underlying cause of the disease and then over the top of that you have to apply these drugs that will hopefully make it better. This flow cytometry method gives us a big advantage."
The research was funded by the Myelin Repair Foundation.