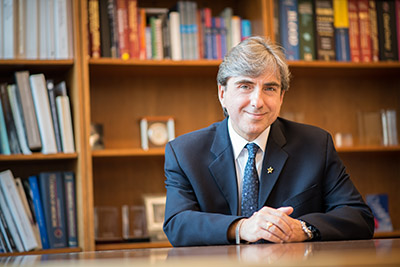 Leonidas Platanias, MD, PhD, has been appointed director of the Robert H. Lurie Comprehensive Cancer Center of Northwestern University, a position he has served in interim since January.
Dr. Platanias joined Northwestern University Feinberg School of Medicine in 2002, as the Lurie Cancer Center's first Deputy Director and the Jesse, Sara, Andrew, Abigail, Benjamin and Elizabeth Lurie Professor of Oncology in Medicine-Hematology/Oncology.
"Leon has already contributed greatly to the Lurie Cancer Center, through both his leadership and his scientific achievements," said Eric G. Neilson, MD, vice president for Medical Affairs and Lewis Landsberg Dean. "As permanent director, he will continue in that vein, driving the center's expansion and maintaining its reputation as a premiere venue for research, clinical care and collaboration."
Dr. Platanias will oversee both the clinical operations in the Lurie Cancer Center and growing basic science research programs, including programs to translate basic and clinical research into personalized medicine.
"I am very excited about the future of the Lurie Cancer Center and of Northwestern Medicine," said Dr. Platanias. "We are developing programs that bridge basic science and clinical care and will establish Chicago as a global leader in the delivery of personalized cancer treatment. We are extremely fortunate to have the enduring support of remarkable philanthropic partners in all our endeavors, and I am particularly grateful to Ann Lurie whose continuous passionate commitment to the Lurie Cancer Center has a profound impact on cancer research and the clinical care of our patients."
Before arriving at Feinberg, Dr. Platanias was the chief of the Division of Hematology/Oncology at the University of Illinois at Chicago. He earned his medical degree from the University of Patras Medical School in Greece before taking on a research fellowship at the National Heart, Lung, and Blood Institute at the National Institutes of Health (NIH). He completed a residency in internal medicine at the State University of New York, Downstate Medical Center, and a fellowship in hematology-oncology at the University of Chicago Hospitals.
Dr. Platanias's molecular biology and biochemistry research, spanning more than 20 years and highlighted in more than 250 published papers, focuses on signaling pathways in cancer cells and developing therapies that target those pathways to treat malignancies. He is well known for his work involving cytokines, which are specific proteins within the blood that have the ability to fight cancer.
"The Lurie Cancer Center has been instrumental in establishing Northwestern Medicine's recognition as a leading destination for cancer treatments," said Dean M. Harrison, President and Chief Executive Officer of Northwestern Memorial HealthCare. "We look forward to working with Dr. Platanias in his new leadership role and continuing to advance Northwestern Medicine's reputation for innovation and excellence in cancer care."
Among his many career honors, Dr. Platanias received the Seymour & Vivian Milstein Award for Excellence in Interferon and Cytokine Research in 2013. A member of various scientific societies, Dr. Platanias served as President of the International Society for Interferon and Cytokine Research in 2010-2011. He currently serves on the board of directors of the International Cytokine Society.
He is currently an associate editor of Leukemia and Lymphoma and the Journal of Interferon and Cytokine Research and he sits on the editorial board of the Journal of Biological Chemistry. He has been a chair or member of many review committees at the NIH, the Department of Defense, the Department of Veterans Affairs and the Leukemia and Lymphoma Society of America.
Dr. Platanias's research is funded by four R01 grants from the National Cancer Institute (NCI) and a Merit Review grant from the Department of Veterans Affairs. He is also the principal investigator of a NCI T32 training grant in signal transduction and cancer and of the American Cancer Society Institutional Review Grant, which provides funding for junior investigators at Feinberg.
"I am very pleased that Leon was selected to carry forward the strong traditions of the Robert H. Lurie Comprehensive Cancer Center as its new director," said Ann Lurie, president of Lurie Holdings, Inc. "I am sure he is the right leader for these exciting times. He will be an exceptional advocate for the serious work ahead to find more enduring cures for cancer."
The Lurie Cancer Center was established in 1974 and dedicated to Robert H. Lurie in 1991. In 1997, the NCI gave the center the highly competitive "comprehensive" title, reflecting its dedication to the utmost standards of cancer research, patient care, education and community outreach. Through its affiliations with four Chicago hospitals, the Lurie Cancer Center treats more than 10,000 new cancer cases each year.