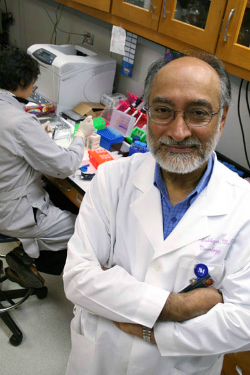 The first animal model for ALS dementia, a form of ALS that also damages the brain, has been developed by Northwestern Medicine scientists. The advance will allow researchers to directly see the brains of living mice, under anesthesia, at the microscopic level. This will allow direct monitoring of test drugs to determine if they work.
This is one of the latest research findings since the ALS Ice Bucket Challenge heightened interest in the disease and the need for expanded research and funding.
"This new model will allow rapid testing and direct monitoring of drugs in real time," said Northwestern scientist and study senior author Teepu Siddique, MD. "This will allow scientists to move quickly and accelerate the testing of drug therapies."
The new mouse model has the pathological hallmarks of the disease in humans with mutations in the genes for UBQLN2 (ubliqulin 2) and SQSTM1 (P62) that Siddique and colleagues identified in 2011. That pathology was linked to all forms of ALS and ALS/dementia.
Dr. Siddique and Han-Xiang Deng, MD, the corresponding authors on the paper, said they have reproduced behavioral, neurophysiological and pathological changes in a mouse that mimic this form of dementia associated with ALS (amyotrophic lateral sclerosis).
Dr. Siddique is the Les Turner ALS Foundation/Herbert C. Wenske Professor of Neurology at Northwestern University Feinberg School of Medicine and a neurologist at Northwestern Memorial Hospital. Dr. Deng is a research professor in Neurology at Feinberg.
The study was published Sept. 22 in the Proceedings of the National Academy of Sciences.
It's been difficult for scientists to reproduce the genetic mutations of ALS, especially ALS/dementia in animal models, Dr. Siddique noted, which has hampered drug therapy testing.
Five percent or more of ALS cases, also known as Lou Gherig's disease, also have ALS/dementia.
"ALS with dementia is an even more vicious disease than ALS alone because it attacks the brain causing changes in behavior and language well as causing paralysis," Dr. Siddique said.
ALS affects an estimated 350,000 people worldwide, with an average survival of three years. In this progressive neurological disorder, the degeneration of neurons leads to muscle weakness and impaired speaking, swallowing and breathing, eventually causing paralysis and death. The associated dementia affects behavior and may affect decision-making, judgment, insight and language.
Other Northwestern authors on the paper include first authors George H. Gorrie, Faisal Fecto, Daniel Radzicki, Craig Weiss, Yong Shi, Hongxin Dong, Hong Zhai, Ronggen Fu, Erdong Liu, Sisi Li, Hasan Arrat, Eileen H. Bigio, John F. Disterhoft, Marco Martina, and Enrico Mugnaini. Gorrie is now a consultant neurologist in Scotland.
The study was supported by the National Institute of Neurological Disorders and Stroke grants NS050641, NS078504, NS070142, NS081474, NS064091, NS009904, NS078287, and the National Institute on Aging grants AG20506 and AG13854, both of the National Institutes of Health, the Les Turner ALS Foundation, the Vena E. Schaff ALS Research Fund, a Harold Post Research Professorship, the Herbert and Florence C. Wenske Foundation and the Les Turner ALS Foundation/Herbert C. Wenske Foundation Professorship and others.