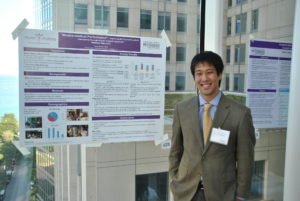 Medical education can take place beyond the classroom walls, and even beyond rotations and residencies. For fourth year medical student Matthew Sakumoto, it happens at the bedsides of patients, while he's performing music on his guitar or trumpet.
"I've played all around the world, but I've never had an experience like at Feinberg with a patient at the bedside," said Sakumoto to an audience gathered at the Ann and Robert H. Lurie Children's Hospital of Chicago. "That one-on-one experience is pretty unbelievable."
He believes that the experience breaks down the barrier between performer and audience, and also between physician and patient. Sakumoto's nonprofit organization Music Matters Med hopes to decrease rates of physician burnout and increase interpersonal communication skills and empathy.
He researched how participating in the program affected 22 medical student musicians – all reported that it made them feel satisfied, enriched and more comfortable interacting with patients and their families.
Sakumoto presented his poster "Musicomedical performance – Improving the physician-patient relationship through shared musical experience" on September 19 during the fourth annual Medical Education Day, an event for Feinberg educators to learn and exchange ideas related to their craft.
To open the day, five oral presentations, including Sakumoto's, covered an array of topics related to medical education, including curriculum development for a new global health certificate program and efforts by the Women's Health Science Program to reduce gender disparities in medical fields by working with girls from underserved Chicago public high schools.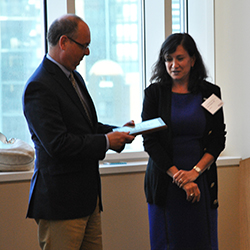 "It's really one of the joys of being at Northwestern – interacting with colleagues who are passionate about education," said Diane Wayne, '91 MD, chair of the Department of Medical Education and vice dean for Education. "Whether students, residents, fellows or faculty, we all have that love in common."
Eric Holmboe, MD, senior vice president of Milestone Development and Evaluation at the Accreditation Council for Graduate Medical Education and a new adjunct professor in Feinberg's Department of Medical Education, delivered a keynote address about competency-based medical education.
"With a competency-based system, one of the fundamental philosophical shifts is that you start with the health and healthcare needs of the populations that you are serving. That may seem like a simple thing, but it's really important. The competencies and outcomes should flow from that," said Dr. Holmboe. "Only then should you think about what your curriculums and assessments look like."
Attendees participated in workshops centered on the theme of "Competencies and Milestones in Medical Education" before mingling at a poster session that featured 31 posters.
Afterward, a reception honored 17 faculty members inducted this year into the Feinberg Academy of Medical Educators (FAME), which recognizes outstanding educational contributions and supports professional development. Jon Lomasney, MD, associate professor in Pathology and Pharmacology, received a plaque for his four years of service as FAME's inaugural director.
In addition, Patricia Garcia, MD, MPH, '91 GME, professor in Obstetrics and Gynecology and Medical Education, received an award for her tireless efforts helping to design Feinberg's new curriculum, which began in 2012. The curriculum integrates classroom instruction and hands-on clinical experiences for students throughout their four years.