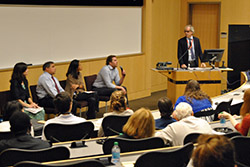 The Ebola epidemic currently affecting West Africa is the largest outbreak of the virus in history, with more cases and more deaths than ever before. But it's not a new phenomenon in the world of infectious diseases and containment is not impossible – with basic resources and massive efforts.
"There are no proven treatments or vaccines right now, so the current outbreak is really about supportive care, personal protective equipment, isolation and quarantine – all classic epidemiology and public health measures," said Chad Achenbach, '02 MD, '02 MPH, assistant professor in Medicine-Infectious Diseases. "This is a public health crisis that should be treated with these kinds of public health measures."
Dr. Achenbach was one of several Northwestern Medicine experts who discussed the Ebola outbreak during a panel for Global Health Day 2014 on September 10. The panelists talked about the virology, transmission, epidemiology and prevention of the Ebola virus, as well as the current state of the outbreak and how emergency departments prepare for it and identify infected patients.
The Center for Global Health at Northwestern University Feinberg School of Medicine is involved in several projects in West Africa, including an NIH-funded tuberculosis lab in Mali that has been testing samples for Ebola. It's the only facility in Mali and one of only a few in the region capable of doing so.
"The lab in Mali is a really good example of how resources for other infectious diseases can be used now in a time of emergency and need," said Dr. Achenbach.
The three countries with the most Ebola cases – Liberia, Sierra Leone and Guinea – are also among the 20 poorest countries in the world. Liberia is the second poorest worldwide, and has only 14 physicians per 1 million people.
Without supplies and enough caregivers, analysts predict the Ebola caseload could exceed 20,000. However, early models of the virus's spread show that its range is similar to previous epidemics, explained the panelists.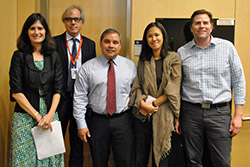 "This is a severe infectious illness. With glove and gown precautions – resources that are not available in a lot of these settings – you should be able to break the transmission of this virus. It doesn't have latency or a really prolonged period of illness where you're infectious," said Dr. Achenbach. "As long as you can institute public health measures, you can control this epidemic. It's been done before. We can do it again; it's just going to be a massive effort."
The panel also included Jennifer Chan, '03 MD, MPH, assistant professor in Emergency Medicine; Juliet Sorensen, clinical associate professor at Northwestern Law; and Mike Schmidt, MD, assistant professor in Emergency Medicine. Robert Murphy, MD, '81, '84 GME, director of the Center for Global Health and John Philip Phair Professor of Infectious Diseases, moderated the event.
Panelists discussed the role of the World Health Organization and other groups involved in relief efforts, as well as the challenges of communicating public health messages about the outbreak.
"People are afraid to go to the infected countries," said Dr. Murphy. "We're not seeing as much media attention about relief programs for that reason, especially compared to previous crises like the earthquake in Haiti."
Should Ebola ever spread to the United States, hospitals are prepared, said Dr. Schmidt.
"From an emergency department perspective, this really is not all that different from other highly infectious high-risk diseases," he said. "We have triage systems already in place. We're screening everybody for travel history and potential exposure right up front and we have the resources to take the necessary precautions from there."
Following the Ebola panel, Global Health Day continued with a poster session featuring 17 presentations by Feinberg students and residents who shared their recent global health electives, research projects and field experiences.
Michael Self won the award for best presentation for his project "Treatment of Traumatic Tibia Fractures with SIGN IM Nailing at Nepal Orthopedic Hospital." Honorable mentions went to Michael Sciaudone for "Missed Medical Visits Predict Virologic Failure in a Peruvian MSM Population in a Community Clinic" and Mania Kupershtok for "Optimization of Data Collection Systems in a Resource-limited Rural Guatemalan Clinic."
With projects in 23 countries, the Center for Global Health promotes health equity and encourages participation in global health experiences through research, supervised clinical rotations and public health projects at universities, health clinics and international nongovernmental organizations around the world.