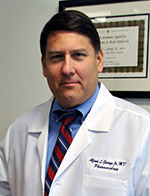 Northwestern University Feinberg School of Medicine has received a $5 million grant from the National Institutes of Health (NIH) to develop a model for classifying disease-causing genetic mutations.
Alfred L. George Jr., MD, chair of Pharmacology and director of the Center for Pharmacogenomics, was awarded the grant, which will span the next four years.
The grant will fund research that focuses on congenital long-QT syndrome, a heart rhythm disorder that can lead to sudden death in children and young adults. The inherited form of the disease is caused by mutations that destabilize the electrical activity of heart muscle.
Not every variant identified by genetic testing predisposes a patient to the disease. Currently, physicians don't have the data nor the predictive tools to determine whether certain variations cause the disease. These are called variants of unknown significance (VUS).
"Physicians are finding new mutations every day but they don't know how to interpret many of them, nor do the genetic testing labs," said George. "A very large fraction of genetic results are ambiguous. This grant strives to make this interpretation less ambiguous so treatment strategies can be more precise and appropriate."
The study will look specifically at variants in the most common mutated gene in patients with long-QT syndrome, which codes for a potassium channel. The goal is to create a computational model that more accurately classifies a VUS and consequently helps physicians avoid unnecessary and potentially harmful interventions on patients with benign variants.
"We plan to perform an industrial-scale functional analysis of mutations in long-QT syndrome and in parallel study the structure of the affected protein," said George. "We'll take those two large data sets – structure and function – and meld them into a predictive computer algorithm."
To make such large-scale analysis possible, the Department of Pharmacology has invested in a high-throughput automated electrophysiology instrument capable of performing 384 simultaneous experiments – the first tool of its kind in the United States and at any academic institution worldwide. With it, George's lab will be able to examine dozens of mutations at a time. The instrument will also lay the groundwork for a new high-throughput screening facility within the department focused on ion channel drug targets.
The scientists hope that the algorithm can eventually be applied to predict the significance of variants in other ion channels, such as those associated with epilepsy and deafness.
George's lab will collaborate with investigators at Vanderbilt University to conduct this study.