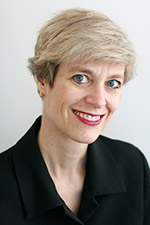 Two Northwestern Medicine scientists have been awarded grants from the Patient-Centered Outcomes Research Institute for projects to improve outcomes for patients. One will help patients avoid walking disability, and the other will encourage them to get emergency medical care when they need it.
Mary McDermott, MD, '92 GME, Jeremiah Stamler Professor in Medicine-General Internal Medicine and Geriatrics and Preventive Medicine, has received $1.7 million to implement a home-based exercise program for patients with lower extremity peripheral artery disease.
"I am honored and delighted that our proposed study was selected for funding," said Dr. McDermott. "This project is particularly important because people with peripheral artery disease have a high rate of disability related to difficulty walking."
The difficulty stems from cholesterol blockages in the leg arteries that cut oxygen to leg muscles. The objective of the three-year research project is to improve walking ability and prevent mobility loss for patients with the disease, which affects 8 million people in the United States. With input from patients and clinicians, Dr. McDermott will first develop the program, and then conduct a clinical trial to test it.
The second PCORI grant recipient is Shyam Prabhakaran, MD, associate professor in Neurology and Medical Social Sciences. The nearly $1.5 million award will support a community engagement project to educate minority communities about the importance of calling 911 at the first signs of a stroke.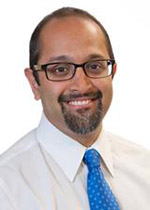 Many minority stroke victims do not call 911 or go to the hospital immediately after stroke to receive treatment that would lessen damage. Dr. Prabhakaran will partner with community groups that serve African-American and Hispanic neighborhoods in Chicago's South Side to understand why stroke victims do not seek immediate treatment and to engineer a program to spread the message about calling for help. He'll test the program's effectiveness by tracking stroke patients in area hospitals.
"We are ecstatic to receive the grant," said Dr. Prabhakaran, who collaborated with Zeeshan Butt, PhD, associate director of the Center for Patient-Centered Outcomes and Ronald Ackerman, MD, MPH, director of the Center for Community Health on the proposal. "This was a heroic effort to get off the ground and submit because of the complexity of the problem, multi-disciplinary team required and detailed community engagement plan."
PCORI is an independent, non-profit organization authorized by Congress to fund comparative effectiveness research that will provide patients, their caregivers and clinicians with evidence-based information to make better-informed health and healthcare decisions. Including the projects led by Drs. McDermott and Prabhakaran, PCORI has selected five Northwestern Medicine studies since it began funding research in 2012.
"The money allocated to PCORI is a result of one of the very few new federal appropriations for medical research," said Rowland Chang, MD, MPH, director of the Institute for Public Health and Medicine (IPHAM). "Being able to obtain grants from this new funding agency is important for the continued growth of the research enterprise at Feinberg and our ultimate goal of innovating to serve patients and populations."