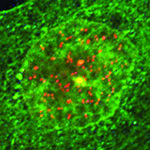 Scientists have identified a specific target to stop cancer cells that express PIM1, a protein that promotes the development of many types of cancers, including leukemias, lymphomas and prostate cancers.
The study found that prostate cancer cells producing too much PIM1 are particularly sensitive to the inhibition of a protein called polo-like kinase (PLK1). PIM1 increases cell survival, cell proliferation and the formation of tumors.
"When we inhibit PLK1, the PIM1 tumor cells die preferentially," said Sarki Abdulkadir, MD, PhD, professor in Urology. "We wanted to inhibit the machinery that allows the cancer cells to divide."
The findings were recently published and featured on the cover in Clinical Cancer Research.
To pinpoint proteins whose depletion would be detrimental to PIM1-expressing tumors, study corresponding author Meejeon Roh, PhD, research assistant professor in Radiation Oncology, systematically searched more than 600 proteins that are potential drug targets. She used a cellular process called RNA interference screening, which silences specific gene expression, to see which genes need to be expressed to make PIM1 prostate cells viable.
"We didn't expect to find PLK1," said Roh. "It is already known as a drug target for cancer therapy."
PLK1 plays an important role in the normal cell cycle helping to regulate mitosis, but it's overexpressed in many types of tumors. Existing drugs aimed at PLK1 have toxic side effects: they can also damage normal cells in cancer patients.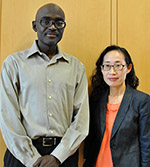 "What our study suggests is that if we can identify cancer patients who have high PIM1, we can give them lower levels of this drug," said Dr. Abdulkadir. "The lower levels would be enough to kill the cancer cells, but not the patients' normal cells. That's really the bottom line."
The scientists tested the discovery in vitro and in vivo. They inhibited PLK1 using both genetic means and using the drug, and found the same results.
Roh has been studying PIM1 since 2001, under the mentorship of Dr. Abdulkadir and David Gius, MD, PhD, and she's not done yet.
"In the future, we would like to pursue PLK1 and PIM1 on a more molecular level to understand more detail," said Roh, who is a member of the Robert H. Lurie Comprehensive Cancer Center of Northwestern University along with Drs. Abdulkadir and Gius.
This study was supported by Department of Defense grant W81XWH-10-1-0246 and National Cancer Institute grant CA123484.