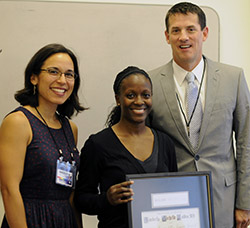 Kimberly Golden, MD, a third-year pathology resident, received the 2014 Marco Ellis Legacy Award for her outstanding commitment to diversity. The award was presented by the McGaw Medical Center of Northwestern University and the Office of Diversity.
Dr. Golden served as president of the Northwestern McGaw Underrepresented Resident and Fellow Forum (NMURFF), an interdepartmental group for trainees at McGaw that carries out programming in mentoring, career development, outreach and collaboration. As a leader in the NMURFF, she contributed to recruiting and matching underrepresented residents. Her efforts helped Northwestern continue to be widely recognized for a strong commitment to housestaff diversity and inclusion.
"I am both appreciative and grateful to receive the Marco Ellis award," said Dr. Golden. "It was a pleasure and honor serving as president of NMURFF over the past year."
Created in 2012, the award honors former resident Marco Ellis, MD, '12 GME, health system clinician in Surgery-Plastic, and is presented annually in recognition of his important foundational work in the area of diversity.
"Kim possesses outstanding leadership qualities," said Robert P. Christopher, FACHE, executive director of McGaw.  "Kim could always be counted on to not only participate in committee meetings, brainstorming sessions, recruitment fairs, conferences and meetings with potential residents, but she also encouraged and persuaded many of her fellow housestaff to participate."
In 2014 McGaw set a record 14 percent match rate for students from underrepresented minorities.
"We could not have achieved this without Kim's support and leadership," Christopher said. "Working with Kim this past year has been an honor and a privilege."