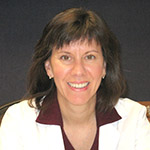 Northwestern University Feinberg School of Medicine has appointed Elizabeth McNally, MD, PhD, as the Elizabeth J. Ward Chair and director of the Center for Genetic Medicine, effective September 1, 2014.
Dr. McNally joins Feinberg from the University of Chicago, where she served as the founding director of the Institute for Cardiovascular Research, director of the Cardiovascular Genetics Clinic and Carlson Professor of Medicine and Human Genetics.
"Elizabeth is a superb leader who brings to Northwestern Medicine an enormous breadth of experience in human and experimental genetics," said Eric G. Neilson, MD, vice president for Medical Affairs and Lewis Landsberg Dean. "With her vast expertise, she will reconnect the Center for Genetic Medicine to many of the major clinical disciplines of medicine, including cardiology, cancer and neuroscience to advance new genetic knowledge and enhance the growing field of personalized medicine."
Dr. McNally has conducted numerous studies to identify genes inherited in the development of cardiomyopathy and muscular dystrophy. The clinical cardiac genetics program will be based in the Bluhm Cardiovascular Institute.
"This is a remarkably exciting time for genetics and medicine," said Dr. McNally. "The fruits of the genome project together with advances in sequencing technology now make it possible to readily determine common and rare genetic changes in individual genomes, and these genetic changes are very meaningful for health outcomes. We have developed a good deal of experience using genetic information for inherited forms of heart disease, and the next steps are to apply those practices across other areas of medicine. Northwestern's Center for Genetic Medicine is uniquely poised to build on its strong foundation and make the next leap to change the way genetic information is used in healthcare."
Dr. McNally was born and raised in Chicago, and earned her medical degree and PhD in microbiology and immunology from Albert Einstein College of Medicine in New York. She completed an internship and residency in Internal Medicine at Brigham and Women's Hospital in Boston, and fellowships in Cardiovascular Medicine at Brigham and Women's Hospital and in Genetics at Boston Children's Hospital. Afterward, she joined the University of Chicago, where she was a faculty member from 1996 to 2014.
More than 170 publications and many honors have marked Dr. McNally's illustrious career. Among them, she's been recognized with an Established Investigator Award by the American Heart Association, the Burroughs Wellcome Translational Scientist Award and the Doris Duke Charitable Foundation Distinguished Clinical Scientist Award.
Dr. McNally is a member of the American Heart Association, American Society of Human Genetics, Association of American Physicians and American Society for Clinical Investigation, of which she is also a past president. Currently, she sits on the Muscular Dystrophy Association's Scientific Advisory Board and on the editorial boards for the Journal of Clinical Investigation and Circulation.
"We're overjoyed to introduce a new era in cardiovascular medicine at Northwestern," said Clyde Yancy, MD, chief of Cardiology and associate director of the Bluhm Cardiovascular Institute. "With the successful recruitment of Elizabeth, we have entered the world of genomics in cardiovascular medicine. This is the future of cardiovascular science and clinical practice. Dr. McNally with her A+ expertise in the field not only adds to our growing presence as a leader in cardiovascular health and medicine, but now represents a unique and invaluable asset for our patients who have, or might be at risk for, genetic cardiovascular diseases. This is a 'wow' moment for us. We are delighted that she is joining us and can't wait to build our new initiatives."
McNally replaces Peter Kopp, MD, '00 GME, who has served as interim director of the Center for Genetic Medicine since September 15, 2007. Kopp, associate professor in Medicine-Endocrinology, has been with Feinberg since 1993. He focuses his research on the genetic basis of endocrine disorders, inborn errors of thyroid development and thyroid hormone synthesis in particular.
"We're tremendously thankful for Peter's service as interim director," said Dean Neilson. "His exceptional skill and dedication is evident in all of the work that he does."