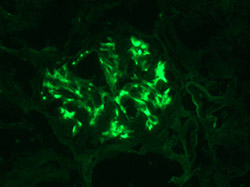 An enzyme called caspase-8, normally involved in cell death, has a different role when expressed by a specific type of cell: it's a regulator that keeps the body from developing lupus.
Lupus is an autoimmune disease in which the body can't differentiate between toxic foreign antigens and its own healthy cells. The body attacks and destroys its healthy tissues, creating inflammation, pain and damage to vital organs.
Northwestern Medicine scientists discovered that caspase-8 is involved in the development of the disease through dendritic cells, which control immune response.
"When we removed the caspase-8 gene from only dendritic cells, we found that all the mice developed lupus. So the failsafe mechanism that you need for your body is all retained in those dendritic cells, and caspase-8 is one of the master regulators for this," said Harris Perlman, PhD, Solovy/Arthritis Research Society Professor in Medicine-Rheumatology.
The findings were published in The Journal of Immunology.
Previous research has shown that caspase-8 initiates apoptosis, a peaceful, controlled cell death. At the same time, the enzyme subdues necroptosis, a messy cell death that sparks an inflammatory response in the body.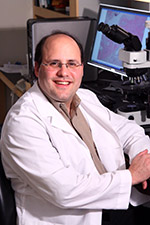 To the scientists' surprise, this study showed that caspase-8 does not have this role in dendritic cells, because removing caspase-8 from the dendritic cells had no effect on their lifespan.
"Caspase-8 in this cell type has zero involvement in cell death," said Perlman. "A universal statement doesn't apply anymore. Investigators have to consider that every single type of cell is different."
The scientists knocked out other pathways to determine how the caspase-8 in dendritic cells was being activated. They ruled out part of the interferon signature, a multigenetic network found in patients with severe lupus, but suggest that toll-like receptor proteins may be involved.
First author Carla Cuda, PhD, research assistant professor in Rheumatology, spent three and a half years on this study, and she's investigating the findings further in the kidney.
"We're trying to figure out which part of caspase-8 is important," said Perlman.
The study was funded by National Institutes of Health Grants AR060169, AR060169, AR055600, AI039824, AR050812, AI092490, GM071723, AR050250, AR054796, AR055503 and AI067590, and the Solovy-Arthritis Research Society Chair in Medicine.