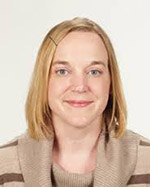 Kathryn E. Hulse, PhD, research assistant professor in Medicine-Allergy-Immunology, found women with chronic rhinosinusitis with nasal polyps (CRSwNP) have a more severe form of the disease than men do.
"Chronic rhinosinusitis affects about 10 percent of the population in the U.S. and it is estimated to account for more than $6 billion spent annually on medications and surgical treatments," said Hulse. "We know that many patients with CRSwNP also have asthma, and previous findings from our group demonstrated the presence of autoantibodies in polyps from CRSwNP patients. Since asthma and autoimmunity are known to be more common and severe in women, I wanted to see if this phenomenon also occurs in CRSwNP."
An abstract reporting these findings was recently presented at the annual meeting of the American Academy of Allergy, Asthma and Immunology.
In the study, Hulse and her colleagues reviewed a database of more than 1,200 patients who underwent nasal surgery at Northwestern to investigate the effect of gender on the prevalence and severity of CRSwNP, asthma and aspirin sensitivity.
Hulse discovered that men were more likely to have the disease, but that women had a more severe form. She also found that 65 percent of patients with the most severe version of the disease, aspirin-exacerbated respiratory disease (CRSwNP plus asthma and aspirin sensitivity), were women.
She measured severity of the disease using clinical observations and inflammatory markers. Hulse used disease severity scores from clinical radiologists based on CT scans to note the inflammation in the sinus cavities before patient surgeries. They found that 40 percent of women with CRSwNP had severe sinus inflammation, whereas 18 percent of men did. Hulse also found that women were more likely to have multiple surgeries.
She also studied levels of inflammatory makers, such as eosinophil cationic protein and autoimmune antibodies. She discovered women with CRSwNP had higher levels of both.
"I hope that someday my research will lead to improved treatment strategies so that both men and women could avoid having surgery and get relief from those symptoms that impact their day to day life and reduce their quality of life," she said.
Hulse plans to extend her findings with a larger-scale study, and will look into the role estrogen plays in antibody production to see if that accounts for the differences seen between men and women.
Her research is supported by Building Interdisciplinary Research Careers in Women's Health.