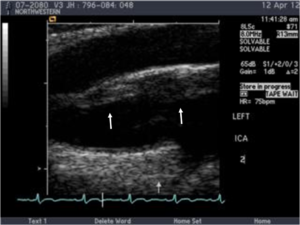 The risk of premature cardiovascular disease (CVD) is a reality for those living with lupus. One challenge facing scientists is to identify who's most vulnerable.
"This study showed that plaque buildup in the carotid artery could be predictive of who faces increased susceptibility," said Rosalind Ramsey-Goldman, MD, Solovy Arthritis Research Society Research Professor. "Plaque is a known predictor of CVD in the general population but goes unmonitored in asymptomatic individuals with no known risk of CVD issues. The imaging technique, however, could provide an additional tool to predict cardiovascular events in all women with systemic lupus erythematosus (SLE)."
The presence of carotid plaque during baseline tests of women with SLE was associated with a more than fourfold increase of some cardiovascular events. The findings were published in the American Journal of Cardiology.
SLE is a difficult to diagnose chronic inflammatory disease that occurs when the immune system attacks organs in the body. The most distinctive symptom, a facial rash that resembles the wings of a butterfly, occurs in many but not all cases. Individuals with lupus are at increased lifetime risk of developing osteoporosis, cardiovascular disease, cancer and infections.
An estimated 1.5 million Americans have the disease, with nine in 10 cases occurring in women, typically between the age of 15 and 45. There is no cure.
"While all causes of death in SLE have declined over the past 30 years, the risk of cardiovascular death remains the same," said Dr. Ramsey-Goldman, a member of the Multidisciplinary Clinical Research Center in Rheumatology (MCRC), the Institute for Public Health and Medicine and Northwestern University Clinical and Translational Sciences Institute.  "These pre-menopausal women are seeing cardiovascular disease develop at a much younger age than we would expect in the general population, and their outcomes are far worse."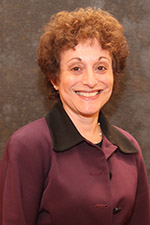 Previous studies have found higher than expected rates of subclinical atherosclerosis – arterial plaque –in women with SLE, but this is the first time the carotid artery has been the focus of a longitudinal investigation.
Collaborating with Susan Manzi, MD, chair of Medicine at West Penn Allegheny Health System, the recently published study followed 392 adult women with lupus and no previous cardiovascular events over an average of eight years. The clinician-scientists took baseline ultrasound measurements and then reviewed them in patients who experienced a cardiovascular event. They determined that thickness of the carotid wall and the presence of arterial plaque are both predictive of a host of cardiovascular issues, including angina, myocardial infarction and fatal cardiac arrest.
"These young or premenopausal women with SLE were found to have a 50-fold increase in their risk for myocardial infarction compared with women of similar ages," said Dr. Ramsey-Goldman. "Identifying a noninvasive measure that can predict cardiovascular illness would be invaluable.

Because of the sample size, the paper's authors said that results cannot be generalized to men with SLE, individuals with more severe forms of the disease or non-Caucasian women.
Dr. Ramsey-Goldman is a professor of Medicine-Rheumatology and also a member if the Center for Genetic Medicine and the Robert H. Lurie Comprehensive Cancer Center.
The study was supported in part by the Arthritis Foundation, Lupus Foundation of America, American Heart Association, National Institutes of Health and the Driskill Foundation.