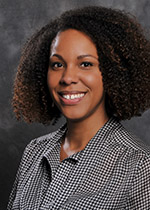 Theanne Griffith has always been fascinated by the number of unanswered questions in neuroscience. A fourth-year Northwestern University Interdepartmental Neuroscience PhD Program (NUIN) student, she studies receptor structure/function relationships to better understand how receptors influence a neuron's function.
"I'm excited to work on a project where I could study a structure-function question," she said. "I'm investigating how two particular proteins work to influence how kainate receptors function."
Griffith conducts her research in the lab of Geoffrey Swanson, PhD, associate professor in Pharmacology. The primary focus of the lab is investigating kainate receptors, a receptor in the brain that modulates communication between neurons.
A couple of years ago, these receptors were shown to associate with two proteins, Neto 1 and Neto 2. These proteins drastically altered kainate receptor function.
"The goal of my research is to understand the structural basis of that interaction between the Neto proteins and the kainate receptor," Griffith said. "What parts of the Neto 1 and Neto 2 proteins are important for the modulation that we observe?"
Griffith uses several different approaches to address this research question, including patch-clamp electrophysiology, confocal microscopy and biochemical/molecular techniques. These tools allow her to determine what parts of the Neto proteins are important for its function and interaction with kainate receptors.
Since these receptors overlap pharmacologically with other receptors in the brain, they have been hard to target. If Griffith can identify important amino acid residues and key sites in Neto proteins and kainate receptors, chemists could design drugs to target those sites. The therapeutics could modulate kainate receptor function in diseases in which they are involved, including epilepsy, pain, stroke and migraines.
Her work is funded by an American Heart Association pre-doctoral fellowship.