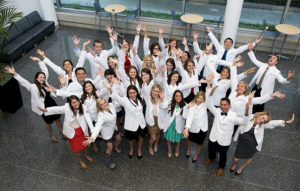 Thirty incoming physician assistant students received their white coats during a welcome ceremony on Friday, June 7. The event marks the beginning of their first year at Northwestern University Feinberg School of Medicine.
Michael MacLean, MS, PA-C, director of the Physician Assistant (PA) Program, opened the ceremony by congratulating students and welcoming friends, family, faculty and staff.
"You were selected to be in this class because of your intelligence, accomplishments and commitment to community service," MacLean said. "This is an important day for you. It signifies your transition from a regular student to a healthcare professional."
He turned the program over to Carolyn Tampe, a second-year physician assistant student and vice-president of the Class of 2015.
Tampe gave advice to the incoming class, encouraging them to learn from each other and to share resources.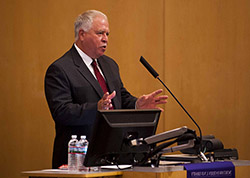 "Look to your left, look to your right," she said. "Prior to now, this was your competition. From now on these are your allies and companions…The better your classmates do and the more they learn and are exposed to, the better you will do and the more you will get out of your experience here."
Tampe also reminded students to be flexible and open minded and to have fun.
"You should all be proud and thrilled to be joining an amazing profession and University," she said.
Gordon Eggers, PA-C, MPH, president and CEO of Crusader Community Health, gave the keynote address. He emphasized the keys to success, such as character, integrity, clinical competence and compassion and the importance of the white coat.
"The white coat is symbolic. It is the most recognized professional garb in the world. The white coat is universally admired," Eggers said. "I ask you tonight to slip it on with humble pride and to realize that thousands of professionals have slipped on that white coat; you are going in their footsteps and the coat has a profound impact on your patient."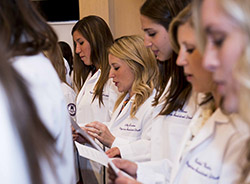 Faculty advisors then bestowed each new member of the program with their first white coat, and MacLean led the class in the recitation of the Physician Assistant Student Oath.
The Class of 2016 includes students from 12 states and 22 undergraduate institutions, and boasts 17 undergraduate majors ranging from biology and psychology to English and international relations. Five students have master's degrees. Entering class members join Feinberg with extensive clinical experience, with the average number of clinical hours per student exceeding 3,600 hours.
The two-year program features lecture, small group discussion, clinical experiences, team-based learning and problem-based learning. The clinical year consists of seven required rotations and a vast number of possible electives.
"I was impressed by the PBL method of learning and I think Northwestern is pioneering and innovative in including it in the PA curriculum," said Daniel Feng Wen, a first-year PA student and one of the program's first international students. A native of northeast China, he spent the past 13 years in medical research and is eager to transition to patient care.
"I'm excited to finally start the PA program," said Christina Hill, a first-year PA student and native of Tampa, Florida. "I chose Northwestern because I fell in love with Chicago and the welcoming and approachable faculty here. I am most looking forward to getting to know my classmates and the feeling of unity as we go through the program together."