Nearly 950 faculty, staff, students, alumni and friends gathered to celebrate the launch of We Will. The Campaign for Northwestern Medicine on May 28 at Navy Pier. Northwestern University Feinberg School of Medicine and Northwestern Memorial Foundation are working together to raise $1.75 billion to provide crucial resources that will increase innovation and excellence across the academic medical center. To date, $750 million has been raised toward that goal.
Twelve educational sessions kicked off the event, with guests hearing short presentations by faculty members and leading experts such as Donald M. Lloyd Jones, MD, ScM, Eileen M. Foell Professor of Heart Research and chair of Preventive Medicine, and Andrew Parsa, MD, PhD, Michael J. Marchese Professorship of Neurosurgery and chair of Neurological Surgery.
Chicagoan Leo B. Kerr attended the diabetes presentation given by Joseph Bass, MD, PhD, Charles F. Kettering Professor of Medicine and chief of the Division of Endocrinology.
"Dr. Bass talked about drugs I have never heard of," he said. "It is so important that this type of information be disseminated. Everyone needs to stay on their toes—there is so much new research and so many new approaches to old problems."
Other session topics included the future of personalized medicine, getting into medical school, breakthroughs in cancer research, the power of big data in medicine, and clinical depression.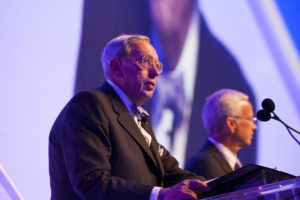 At the dinner following these presentations, Clyde Yancy, MD, Magerstadt Professor and chief of Cardiology, welcomed guests and shared a campaign video before turning the program over to Eric G. Neilson, MD, vice president for Medical Affairs and Lewis Landsberg Dean, and Dean M. Harrison, president and CEO of Northwestern Memorial HealthCare.
"Through our shared strategic plan, we are advancing medical science and discovery while training the next generation of physicians," said Harrison. "Working together provides the potential for us to exceed every patient's expectation. Together, we are realizing our shared vision to make Northwestern Medicine one of the country's premier destinations for patient care."
Dr. Neilson added, "It is often said that biomedical science is not a sprint—it is a relay race from one generation to the next, and it takes a mighty combination of heart, intellect and stamina to achieve real progress. And, most importantly, lots of fuel. The best runners want more than to cross the finish line. They want to quicken the pace, to improve the record of accomplishment. That pretty much encapsulates what the We Will. Campaign is all about."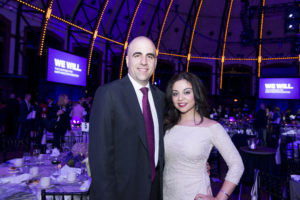 Dr. Yancy introduced presenters throughout the evening to talk about research breakthroughs, life as a medical student and what makes Northwestern Medicine a national epicenter for healthcare, community service and advocacy.
Other speakers included:
Benefactors Muneer Satter, member of the Northwestern University Board of Trustees, and his wife Kristen Hertel, member of the School of Education and Social Policy board of advisers
Patrick James Hurley, rising third-year medical student and Satter Family Foundation Scholar
Ashish Sarraju, MD'14, recent graduate and Satter Family Foundation Scholar
Melina R. Kibbe, MD, Edward G. Elcock Professor of Surgical Research
Laura Boitano, MD'14, recent graduate and mentee of Dr. Kibbe
Carol Lavin Bernick, chair of the Northwestern Memorial HealthCare Board of Directors
Bill Osborn, chair of the Board of Trustees of Northwestern University
The second half of the evening included a comedic video featuring Northwestern alumni Stephen Colbert and Seth Meyers talking about the campaign's four pillars. Northwestern University President Morton O. Schapiro followed up the video with some context.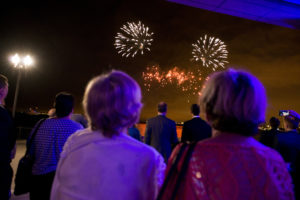 "The four pillars that characterize our We Will. Campaign for Northwestern—discovery and creativity, the student experience, campus and community, and global connections—are tied inextricably to the successes of Feinberg and Northwestern Memorial HealthCare," he said. "Together as Northwestern Medicine they are paving the way at the forefront of this campaign, shaping the future of Northwestern University as a whole."
Opera singer Sandra Marante gave a performance and shared her experience as a patient of Bernard Bendok, MD, a professor of Neurological Surgery and leading neurosurgeon at Northwestern Memorial Hospital.
"I want to tell you—there truly is hope," she said. "I am a believer in the medical visionaries at Northwestern Medicine. It is their medical expertise that saved me, and there are many more discoveries to be made and many more lives to save."