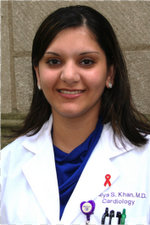 Sadiya Khan, MD'09, GME'12, a second-year Cardiology fellow, received awards for both her academic and her clinical performance. She was honored with the American College of Cardiology Henry I. Russek Travel Awards for Fellows in Training and the American Heart Association Women in Cardiology Trainee Awards for Excellence.
"It is truly an honor to be selected for these awards," said Khan, also in the Physician-Scientist Training Program. "I feel very fortunate to have excellent mentors in the Department of Medicine and Division of Cardiology who supported me for both of these applications."
The Russek travel awards recognize eight fellows for academic performance in cardiovascular medicine. The award is named in honor of Dr. Henry I. Russek, who served as director of the New York Cardiovascular Symposium for 25 years, and supports travel to the event.
The women in cardiology trainee awards acknowledge 25 female cardiology fellows who exemplify a balance between clinical expertise and scientific interests. Khan received the award during the recent AHA Scientific Sessions.
"One of the nice things about attending these meetings is having the chance to meet some of the national leaders in cardiology as well as other fellows," she said. "It was very helpful to network with fellows, junior faculty, and senior faculty at the award banquets and hear about their path and experiences in academic medicine. It complemented so nicely with the role models available here at Northwestern in my quest to becoming an academic cardiologist."
This summer, Khan will begin research on the role of the protein PAI-1 in hypertension, metabolic syndrome, and cardiovascular disease. She will be working in the lab of Douglas Vaughan, MD, chair of Medicine.