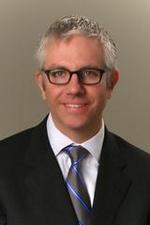 D. Mark Courtney, MD, associate professor of Emergency Medicine, and Ram Yogev, MD, professor of Pediatrics-Infectious Diseases, received 2014 Mentor of the Year Awards.
Drs. Yogev and Courtney will be honored during the Tenth Annual Lewis Landsberg Research Day at 1 p.m. on Thursday, April 3, inside the John Hughes Auditorium. A poster session will follow the presentation at Northwestern Memorial Hospital.
"This is an incredibly meaningful award because it comes from the efforts of my peers to nominate me and a very competitive selection process," said Dr. Courtney.  "I am honored that my colleague Dr. Danielle McCarthy nominated me and led a major effort to get an impressive number of letters written on my behalf."
Bestowed annually by the Medical Faculty Council (MFC), the award acknowledges the commitment of Feinberg faculty members in fostering the professional growth of junior faculty to help them achieve their full potential.
"Words cannot describe how I feel as it is, probably, the most desired award I have gotten," said Dr. Yogev. "It recognizes my efforts in advancing the medical career of younger colleagues which I regard as by far the most useful and important work I have been called upon to do."
"The Medical Faculty Council selected Drs. Yogev and Courtney as the 2014 Faculty Mentors of the Year because their nomination applications best reflected the essence of excellent mentorship – a deep and long-standing commitment to the career development and success of their junior colleagues," said Lois D. Hedman, DScPT, president of the MFC and associate professor in Physical Therapy and Human Movement Sciences.
Established in 2008, the annual award was expanded in 2010 to recognize two faculty members in developing  the next generation of leaders in education and patient care, as well as basic, clinical and social sciences.
The MFC, a group of 31 faculty members representing the medical school departments, chooses the mentors of the year based on nominations by mentees.
"The most satisfying part about being a mentor for me is being able to share my past experiences with my mentees," said Dr. Yogev. "Not just by answering their questions, but more importantly by assisting them to realize their potential and contributing to their development. It is rewarding to know that I inspired others to reach their optimum potential."
"Teaching and providing mentorship in medicine is a bit like parenting," said Dr. Courtney. "In some ways it is more challenging than I ever thought it would be, and yet in the same manner is it more rewarding than I ever thought. There is nothing like seeing the people who I saw entering our program as residents or medical students grow into successful investigators in emergency medicine."
The awardees were invited to share their mentoring tips and stories at a mentoring workshop held prior to Research Day.  Dr. Yogev spoke on the influences of his mentors and the benefits of providing advice and insight to colleagues. Dr. Courtney discussed the scholarship and career happiness that comes with mentoring, the challenges of mentorship and things you can do to ensure a meaningful relationship.
"I must say that it makes this award additionally sweet to have been awarded along with Dr. Yogev. Meeting him and learning about his contributions, passion and wit gives me further motivation to keep up my scholarly efforts for years to come," said Dr. Courtney.