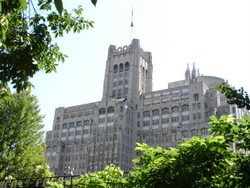 Feinberg has maintained its position among the best research-oriented medical schools in the country, standing alone at 18th in the annual U.S. News & World Report rankings. The school's overall score rose to an all-time high for the fourth year in a row. Among specialty rankings, women's health and pediatrics both improved one spot to No. 10 and 13, respectively.
"Our reputation as a place of outstanding academic research and our placement among the top medical institutions in the country is well-deserved," said Eric G. Neilson, MD,vice president for medical affairs and Lewis Landsberg Dean. "Even in today's difficult funding environment, our research enterprise is growing on a scale that will serve to elevate Feinberg's standing in the future."
The magazine uses assessments by peer institutions, National Institutes of Health research activity, faculty resources and student selectivity to determine the rankings. The nation's 128 fully-accredited medical schools and 25 schools of osteopathic medicine each received a score from zero to 100. This year, Feinberg's score increased from 67 to 69, solidifying the spot it previously shared with two other institutions.
In the Primary Care rankings, Northwestern University Feinberg School of Medicine jumped nine spots to 22nd. Earlier this year, the internal medicine residency program at McGaw Medical Center of Northwestern University was listed in the top 10 of a nationwide survey of physicians published by U.S. News and World Report.
Northwestern University's medical school, founded in 1859, attracts talented individuals to its faculty, staff and student body through its cutting-edge research initiatives, superb clinical facilities, global outlook and innovative curriculum. Feinberg is part of the vibrant educational and cultural community of Northwestern University, an independent private institution founded in 1851, and is a central component of a premier academic medical center, Northwestern Medicine. Located on the Northwestern campus in the heart of Chicago's Magnificent Mile, Feinberg has built a national reputation for excellence through a strong history of collaborative, interdisciplinary medical education and research.
The complete survey is available online.