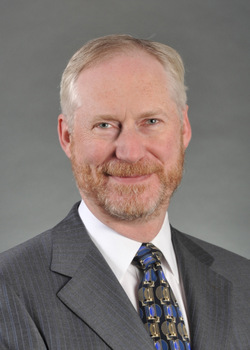 After 16 years of distinguished leadership as a physician educator, Raymond H. Curry, MD, GME '85, has stepped down as Vice Dean for Education at Northwestern University Feinberg School of Medicine. He will continue on the faculty as a primary care physician in the Northwestern Medical Group.
Dr. Curry arrived at Northwestern as a resident in Internal Medicine in 1982 after earning his MD at Washington University School of Medicine in St. Louis. In the 32 years that followed, he became a respected clinician, served six medical school deans, and played an instrumental role in implementing two reforms to our education curriculum that positively influenced several generations of future physicians.
With primary responsibilities in residency education, Dr. Curry joined the faculty in 1985 and quickly found himself fascinated by doctor-patient communication. In 1992, he became director of undergraduate education for the Department of Medicine, and soon after was named one of the school's first Augusta Webster Faculty Fellows in Medical Education. The appointment coincided with the launch of a new medical school curriculum and Dr. Curry dedicated much of his efforts at that time to the clinical skills teaching components of the new program.
Dr. Curry was appointed executive associate dean for education in 1998, and while still involved in teaching and clinical supervision this new role allowed him to foster change in education and administrative policy. Throughout his career, Dr. Curry has made the expansion of diversity efforts a top priority, embarking on a campaign to increase the number of students classified as underrepresented in medicine. The medical school has seen steady improvement, increasing the number of students from racial and ethnic groups considered underrepresented from 8 percent in 1998 to nearly 19 percent with the Class of 2014.
Under Dr. Curry's guidance, medical education at Feinberg continues to evolve. In 2009, he oversaw the establishment of the Center for Education in Medicine, which acts as an intellectual hub to foster innovative approaches to education, develop external support for educational research and scholarship and showcase the school's innovations in medical education. The center's objective is to not only enhance institutional visibility and impact in education, but also addresses important needs for faculty development and recognition through the Feinberg Academy of Medical Educators (FAME).
In 2010, Dr. Curry also helped make the Northwestern University Feinberg School of Medicine Simulation Technology and Immersive Learning Center a reality – under his leadership the simulation center has become not only a state-of-the-art teaching tool and valued resource across Northwestern Medicine, but also serves as one of the most highly respected centers of its kind in the nation.
"Over the past three decades, Ray has overseen tremendous change in the way medical students are educated here at Northwestern and has served an integral role in supervising an education program that many students have cited as the reason for choosing Feinberg," said Eric G. Neilson, MD, Vice President for Medical Affairs and Lewis Landsberg Dean. "His management of our most recent curriculum redesign has put Northwestern Medicine on a successful path for educating future doctors and incorporating them into the nation's health systems well into the future."
Dr. Curry's career at Feinberg has been punctuated with memberships on numerous committees and advisory boards at the medical school and its affiliates, including the Nathan Smith Davis-Northwestern University Leadership Circle. He is also a member of the American Academy of Physician and Patient, Association of American Medical Colleges, and American College of Physicians and Society of General Internal Medicine, among other professional associations.
An event will be held later this spring to properly thank him for his dedicated service.