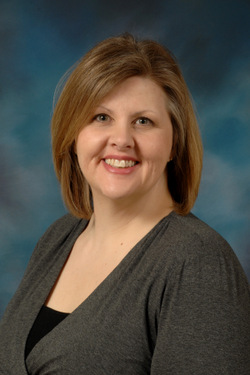 Kristi Holmes, PhD, a bioinformaticist with a background in research impact and genomic medicine, will join Northwestern University Feinberg School of Medicine on May 5 as director of the Galter Health Sciences Library and associate professor of Preventive Medicine-Health and Biomedical Informatics.
"Kristi possesses an extremely rare set of skills, combining library management and informatics scholarship with a clear vision of the intersection between the two," said Donald Lloyd-Jones, MD, ScM, senior associate dean for Clinical and Translational Research, chair of Preventive Medicine, and director of the Northwestern University Clinical and Translational Sciences Institute (NUCATS). "After carefully surveying where Galter is positioned, one of the things that became apparent is our need to enhance bioinformatics capability while maintaining the traditional resources of a health sciences library. Kristi will work to ensure we're providing 21st century resources to our scientists and physicians."
Holmes earned her PhD at Iowa State University before joining the Bernard Becker Medical Library at Washington University in St. Louis, where she has worked as a bioinformaticist since 2007.
In that role, she's focused on finding ways to reduce barriers to collaboration while supporting interaction, outreach and advocacy among campus partners. She also participated in scholarly and service activities, including publications, grant proposals and the fostering of professional relationships with organizations like VIVO, an international research networking group, and the National Center for Biotechnology Information.
"I'm delighted to have this opportunity to join Galter at such an exciting time for biomedical libraries," Holmes said. "Now, more than ever, libraries are uniquely poised to provide resources, technology and services to support scientific discovery and clinical care. Feinberg is advancing medicine and research in some remarkable ways and I can't imagine a more exciting place to be."
Holmes has published more than a dozen papers, multiple book chapters and various web-based resources and reports since 2004. At Washington University she was a member of numerous committees and gained membership into the Medical Library Association, American Medical Informatics Association, Association of College and Research Libraries, American Library Association and the American Evaluation Association.
"Even before we began the formal search, I was aware of Kristi's work in bioinformatics," said Justin Starren, MD, PhD, chief of Health and Biomedical Informatics and deputy director of NUCATS. "We had a very competitive national search for this position with a number of remarkable candidates. Kristi was immediately on the short list of finalists and the formal process confirmed our initial impressions."
In September 2013, Galter became part of NUCATS in the first of several initiatives to strengthen and expand the library's capabilities in support of clinical care and research.
"As interim director, Heidi Nickisch Duggan, MA, MS '10, was instrumental in this transition," Dr. Lloyd-Jones said. "Heidi and the Galter team have been doing a terrific job integrating Galter with NUCATS, helping us to synergize our strengths to serve our common research and educational missions. Heidi and the Galter staff will be vital in helping Dr. Holmes position Galter as a national leader among health sciences libraries."
Holmes will be moving to Chicago with her husband and 1-year-old son. She also has a son who is a freshman at Truman State University.
"I'm excited to be a part of launching these initiatives at Galter as well as bolstering many ongoing, successful efforts. We'll continue to build our systematic review support services and our bioinformatics support program will be stronger than ever," she said. "New areas of service will include a clinical informationist program and scholarly communications support. We also look forward to developing programming and support services in areas related to understanding, assessing and reporting research impact."